Taziki's Mediterranean Café has named Belmont alumna Rachel Layton vice president of marketing & growth. <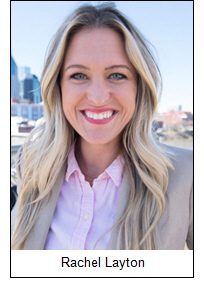 Prior to joining Taziki's, Layton most recently served as the director of marketing for A. Marshall Hospitality from 2014-2018 in Nashville, which included Puckett's Gro. & Restaurants, Puckett's Boat House, Homestead Manor, Scout's Pub, Hattie Jane's Creamery and Deacon's New South. There she was responsible for identifying and creating revenue opportunities through advertising, sponsorships, partnerships, campaign creation and digital strategy. She was also responsible for philanthropic campaigns, event management and promotion.
She will be instrumental in the growth of the Taziki's restaurant brand in the 17 states where the chain has a presence. Taziki's recently opened its 84th restaurant in Eagle, Idaho last week. Layton is being tasked with building a memorable brand and growing profitable sales by leading the marketing team. She will also be developing the off-premise and catering program as well as spearheading growth initiatives.
"Rachel is a trained marketing professional with experience and a vision that will help further our team's desire to deliver an environment that combines extraordinary food with meaningful human connection," said Dan Simpson, CEO, Taziki's Mediterranean Cafe. "She will be responsible for marketing-related strategy decisions at both a corporate level and local level for our franchisees."
In 2017, the Nashville Area Chamber of Commerce named Layton a Nashville Emerging Leader in the Hospitality and Tourism Category. She also won the 2017 Women of Influence Award given by the Nashville Business Journal and was named a Nashville Champion of the Year by Best Buddies Tennessee in 2017.
Layton grew up in the media industry, becoming a professional radio talent at the age of 16 where she won a state championship in news. Her broadcasting career led her to Ball State University where she earned her BA in Telecommunications. Layton also earned her MBA from Belmont University.
Born in rural Indiana, Layton currently lives in Nashville, Tenn. and currently serves as the President of the Belmont University Massey Alumni Board. She also serves on the board for the Safe Haven Family Shelter.