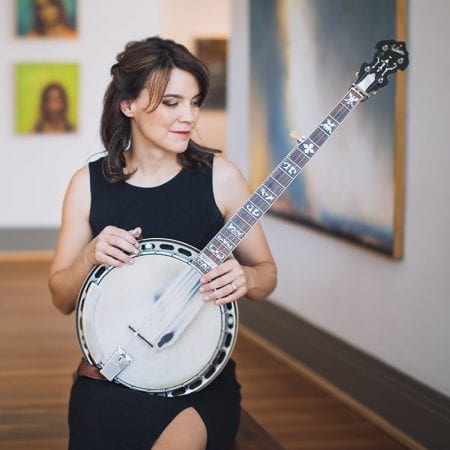 Banjo player extraordinaire and 1998 marketing alumna Kristin Scott Benson was recently named as the 2018 recipient of the 9th annual Steve Martin Prize for Excellence in Banjo and Bluegrass.
The Steve Martin Prize for Excellence in Banjo and Bluegrass provides the winner with an unrestricted cash prize of $50,000, as well as a bronze sculpture created specifically for the prize by noted artist Eric Fischl. Created to bring recognition to an individual or group for outstanding accomplishment in the field of five-string banjo or bluegrass music, the prize highlights the extraordinary musicianship of these artists and bluegrass music worldwide. The winner is determined by a board consisting of J.D Crowe, Pete Wernick, Tony Trischka, Anne Stringfield, Noam Pikelny, Alison Brown, Neil V. Rosenberg, Béla Fleck and Steve Martin. The award is given to a person or group who has given the board a fresh appreciation of this music, either through artistry, composition, innovation or preservation, and is deserving of a wider audience and is funded personally by the Steve Martin Charitable Foundation.
Benson is the four-time International Bluegrass Music Association's (IBMA) Banjo Player of the Year and has been a member of the Grammy-nominated bluegrass band, The Grascals, since 2008.
Benson grew up in South Carolina, surrounded by a musical family. She started playing mandolin and stepped on stage for the first time at the age of five. After receiving a much-anticipated banjo for Christmas when she was thirteen, she became enthralled with the instrument and spent her teen years studying the playing of all the banjo greats from Earl Scruggs to Bela Fleck. After high school, she attended Belmont University, where she graduated Summa Cum Laude with a BBA in Marketing and a minor in Music Business.
Benson has attained a national identity as one of the top bluegrass banjo players, exhibiting impeccable taste, timing and tone. With an attentive ear to back-up, she is known and respected as a true team player. In addition to her latest album "Stringworks," Benson has recorded two prior banjo albums, "Straight Paths" and "Second Season." Both received stellar reviews, as well as an IBMA nomination for Instrumental of the Year for the self-penned, "Don't Tread on Me" on "Second Season."