Nicole Brandt, 2014 religion and the arts Belmont graduate and founder of Poverty and the Arts (POVA), was recently featured on "The Plus Side of Nashville." As a social enterprise, POVA provides supplies, studio space, training and a marketplace for artists overcoming homelessness to create and sell artwork while gaining entrepreneurial and social skills. On "The Plus Side," Brandt detailed POVA, how the idea was born and the ways she and her team are impacting the Nashville community.
Growing up in a small town, Brandt said she had the opportunity to spend time with a homeless community weekly during her senior year of high school. Through the relationships she built there, a new passion was formed. When she moved to Nashville to attend Belmont, Brandt said she began attending church and volunteering for a homeless ministry where she passed out donations, but it was the chance to listen to each person's story and experiences that impacted her most.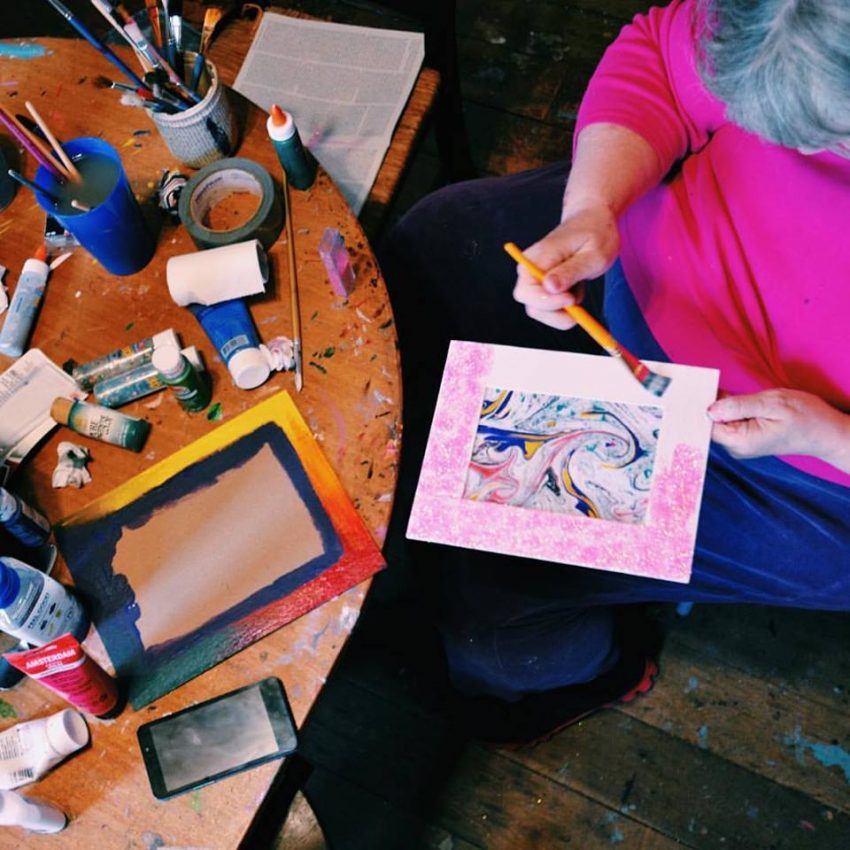 "I learned the places they hated and the place most loved, like Room in the Inn," she said. "While I enjoyed getting to know my new friends and often tried to coordinate groups of students from Belmont to come with me to Church Street Park, I knew there must be a way to make a greater impact by sharing my experience on a deeper level with more people."
Her sophomore year, Brandt landed what she calls her "dream job," working with Tim Stewart at Belmont's Office of Service Learning. As the Diversity and Human Rights Campus Coordinator, Brandt was charged with developing and executing three community service projects each semester for students. "I saw this as my opportunity to recreate the environment I had experienced in Kentucky where students could genuinely get to know people experiencing homelessness," she said. "I started to wonder what it would look like for art to be the conduit in which community members have an opportunity to sit down as equals with individuals experiencing homelessness–creative and talented human beings in the middle of a struggle, someone they can relate to."
Soon after, Brandt worked alongside Room in the Inn to host her first POVA event where Belmont students participated in visual art, music or creative writing with members of the un-housed community. Thanks to a positive response from participants, Brandt continued hosting POVA events each semester through her position at Belmont. As graduation approached, Brandt began to realize she might have found just what she was looking to do professionally.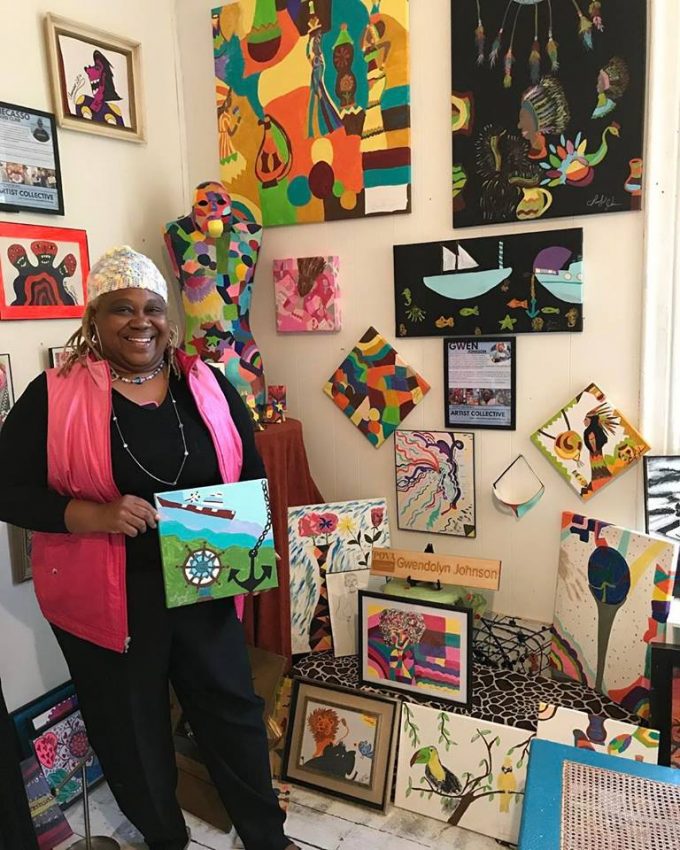 "I started to dream about POVA's sustainability and about the impact it could have on the Nashville community," she said. "After meeting with several contacts from the nonprofit field for advice, one phrase that continued to stand out was 'Don't repeat services.' Nashville doesn't need more nonprofits doing the exact same thing and competing for the same funding. This really resonated with me as I began to evaluate our program and shape its current services."
Seeing significant talent but a lack of resources in the community, Brandt launched POVA's Artist Collective in May 2014. Seeking to provide the resources needed to allow homeless individuals the opportunity to create art, the Collective provides an opportunity for artists to create and sell artwork as a way to earn income for themselves. "This supplemental income, made possible by their creative skills, provides greater autonomy in their day-to-day lives and allows the artists the opportunity to take control over basics like where to eat, how to get around or who to spend time with," Brandt said.
Now, POVA has served 20 artists total, 9 of which have transitioned into housing since joining the programming. The organization has secured a rental property and transformed it into a Studio and Gallery in Wedgewood-Houston, allowing them to participate in the neighborhood's monthly art crawl and provide ongoing exhibition opportunities to their artists.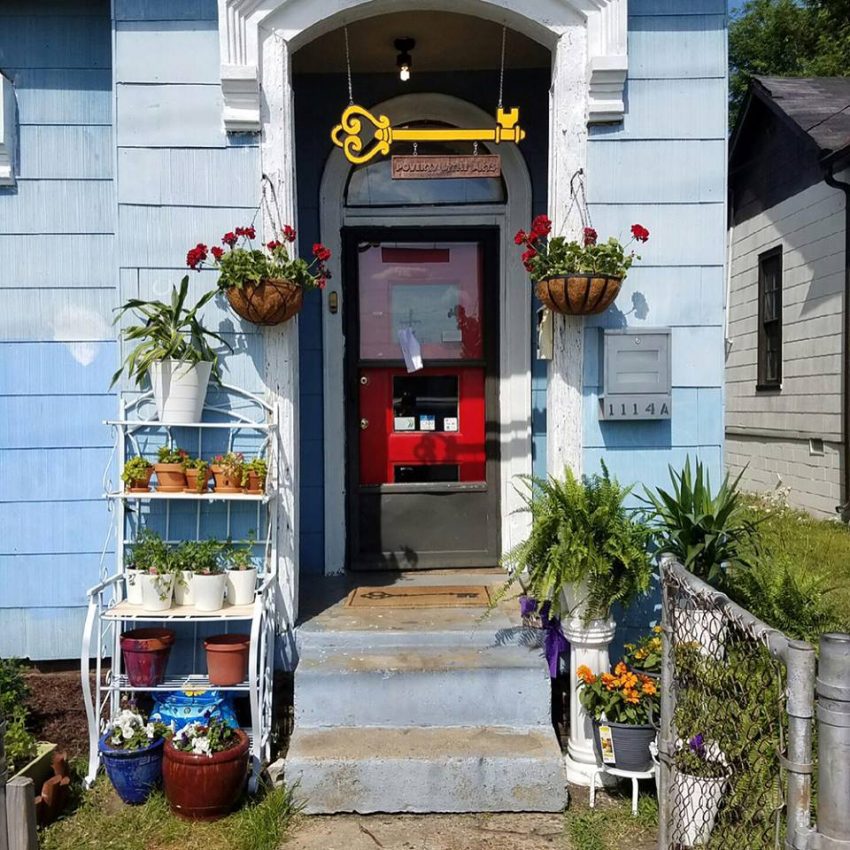 Long-term, Brandt and her team hope to expand their services and increase the number of artists they serve. In addition to purchasing their own studio and gallery in the next five years, POVA hopes to provide transitional housing to their artists in the next 10 years. "By understanding the ways in which environment drives behavior, we know that our artists have the greatest possibility of succeeding when we can provide them an environment which includes a space to live, breathe, sleep and be," Brandt said. They also hope to increase their revenue streams, and artists' income, by expanding to retail, corporate art and teaching artist grants.
Looking back on her time at Belmont, Brandt said she can clearly identify an environment that encouraged the kindling of her dreams, while providing her with the space necessary to grapple with the challenges facing Nashville and beyond. "I devoured and analyzed books by theologians, sociologists and philosophers," Brand said. "All struggling with the problems of the world and theorizing potential solutions. My religion professors encouraged me to think critically about my religious background and other classes began to reshape how I saw the world and my place in it."
"My only regret," Brandt said, "is not taking more business classes that would have provided me with foundation I needed to launch my own nonprofit! But I am extremely grateful that I was provided an environment that allowed me to nurture and grow my dream."