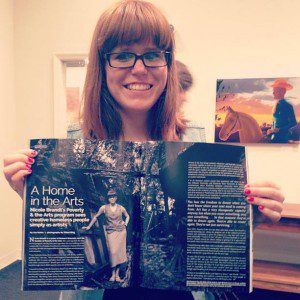 Belmont alumna Nicole Brandt was recently featured in The Tennessean and on News Channel5 for her continuous efforts with Poverty & the Arts. Brandt has also been featured in The Contributor, Nashville's local "street newspaper" for her success with this organization.
Last month, Brandt hosted an art show showcasing the work created by the homeless community of Nashville with the goal of breaking down the stereotypes that surround homelessness. Artists were able to speak about their artwork and tell their stories as well as keep 75 percent of every piece they sold during the art show.
Brandt founded the nonprofit organization while working a campus job in the Center for Service Learning to aid Nashville's homeless through performing and fine arts. The organization organizes music, visual art and creative writing events with the Nashville area to cultivate community relationships and empower homeless individuals.
In 2015, the organization will partner with How's Nashville to offer creative classes and lessons to the individuals in the program receiving housing.