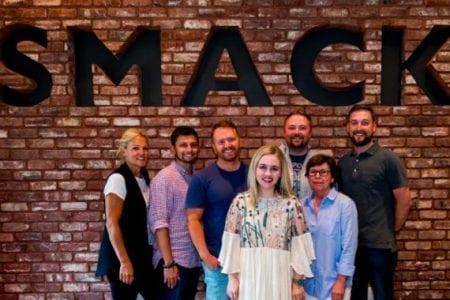 Nashville-based music publishing company, SMACKSongs, has signed songwriter Emily Falvey to an exclusive worldwide publishing deal. Falvey joins a roster of writers, producers, and artists, all led by Shane McAnally and Josh Osborne.
Falvey is a recent graduate of Belmont University, who earned a BA in Songwriting and a BBA in Music Business. During her time at Belmont, Falvey interned at SMACKSongs, as well as at other companies in the music industry.
"I can think of no greater honor than signing my first publishing deal with SMACKSongs, and to be able to join this extraordinary family of writers and industry leaders," shares Falvey. "I am especially grateful to Robin Palmer and Lee Krabel at SMACK for believing in me, Mark Abramowitz and the entire Kobalt team, Leslie Roberts and MaryAnn Keen at BMI, Matt Cottingham at Ritholz Levy Fields, the Songwriting department at Belmont University, Emily Weisband, Josh Osborne and Shane McAnally for their mentorship and vision. I am excited to be a part of the changing landscape of Nashville and to be able to make music every day!"
"Over the last year we have absolutely loved getting to know Emily as our intern and resident cheerleader for SMACK," said McAnally. "Her positive energy and budding talent caught our attention early, and we're so excited to have her as our newest writer at SMACK. We look forward to her bright future ahead."
During her time at Belmont, Falvey also participated in a Make Music Nashville event that allowed her to write a song with a local senior citizen.