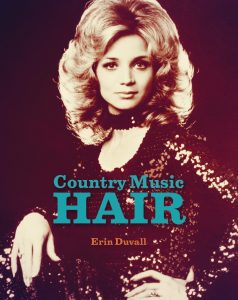 It's no secret that there's more to being an artist than creating music—appearances can be just as important when gathering a fan base. This is an idea that 2006 Belmont music business alumna and freelance writer Erin Duvall took to exploring in her new book, Country Music Hair, set to release from HarperCollins Publishing on November 8.
Stated in Duvall's own terms in her initial press release, "Country Music Hair is country music's greatest mullets, bobs, beehives and bouffants collected together in one entertaining volume, illustrated with dozens of color and black-and-white photographs." The book aims to highlight country stars with the most prominent and well-known 'dos (Billy Ray Cyrus, Dolly Parton, etc.) while also showing trends in the industry over time.
When discussing the inspiration behind her topic, Duvall mentioned country music fans and how they have always shown deep interest in their favorite artists' appearances.  "Early in her career, fans would cut chunks from Loretta Lynn's hair to have for themselves," Duvall said. "Today, less eager fans will post outrage or praise to social media when a hitmaker makes a change to their locks. And the stars never disappoint. From mullets to beehives, country music is filled with a diverse array of hairstyles that shaped popular culture."
Duvall attributes some of her passion for the music industry to her days spent in Belmont's classrooms. "I don't believe I would have the career and success that I've had if I hadn't studied music business at Belmont," said Duvall. "The program supplied me with a firm understanding of how the music industry worked and the rich history, specifically of the country genre. A journalism degree may have prepared me to cover a broader array of topics, but studying Music Business set me up for my real passion: writing about the history and happenings of country music."
To pre-order "Country Music Hair," visit Duvall's website.