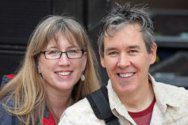 Joined at the Heart: A Story Of Love, Guitars, Resilience and Marigolds chronicles the lives of 1984 alumna Erin Morris Huttlinger and her husband Pete, through the successes, hardships and victories experienced from careers in the music industry. The book will be released October 10.
Pete Huttlinger is an award-winning guitarist whose resume includes touring with John Denver, opening for Hall and Oates and LeAnn Rimes, and playing Carnegie Hall and Eric Clapton's Crossroads Festival three times each. However, Pete has also faced a long battle with a congenitally damaged heart. A release about the upcoming book launch said, "That Pete still plays like a champion—and still tours—is principally attributable to three factors: his unflagging spirit, dramatic advances in heart-assistance technology and the Olympian support of his wife, Erin, who simply will not let him doubt his own resilience, succumb to despair or stop working."
Erin Morris Huttlinger is a veteran publicist and artist-development specialist. At RCA Records, she enhanced and spotlighted the careers of Kenny Rogers, Dolly Parton, Charley Pride, Alabama, Waylon Jennings, The Judds, Roy Rogers and Keith Whitley, among others. As an independent publicist, she has helmed publicity campaigns for such stars as Vince Gill, LeAnn Rimes, Ralph Stanley, Martina McBride, Merle Haggard, Ricky Skaggs, Steve Wariner and The Time Jumpers.
Joined at the Heart is structured around two catastrophic medical events in Pete's life. The story is told by Pete and Erin from alternating perspectives, with an introduction written by John Oates of Hall & Oates. Purchase of the book includes a free MP3 download of one of Pete's original tunes, "Things Are Looking Up." Pete and Erin also make speaking appearances titled "Things are Looking Up" that chronicle their triumphs over Pete's medical problems to enable him to continue performing.
The couple's daughter, Sean Della Croce, will graduate from Belmont this December.