Belmont sophomore Jordan Taylor Patrick and junior Justin Lang were initiated into the Upsilon Tau chapter of the Alpha Phi Alpha fraternity on April 11, activating the newest fraternity on Belmont's campus.
Lang said the process has taken nearly two years, with countless hours of research, proposals and letters. It has been an all hands on deck project with help from Associate Provost and Dean of Students Dr. Jeffery Burgin, an APA alumnus himself, Assistant Director of Student Engagement Sarah Rigsby and members of the Tau Lambda chapter, among others.
"Throughout the process, countless brothers have told Jordan and I how historic this is. 'You guys will be in the history volume, but that won't fully sink in for a while,' many would say. I'm just honored to be part of a fraternity with such a rich history that continues to make a significant social impact," said Lang. "I know the Upsilon Tau chapter will be highly impactful for Belmont and its efforts to create a better climate for black students and other students of color. It's what our campus has been needing, and it will uphold Belmont's principles of scholarship, community and service."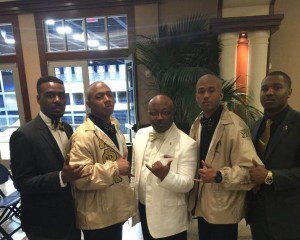 Alpha Phi Alpha was founded in 1906 at Cornell University, the first Greek-letter intercollegiate fraternity to be established for African-American men. Several notable figures were brothers in APA including W.E.B DuBois, Martin Luther King Jr., William Gray and Thurgood Marshall.