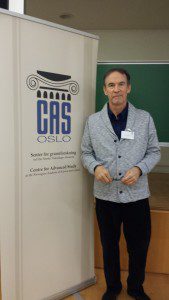 College of Theology Adjunct Professor Mark Christian, a 1994 Belmont graduate, recently returned from a full scholarship trip to the Center for Advanced Studies in Oslo, Norway. While there, Christian was invited to deliver a keynote address to an international team of interdisciplinary scholars, present a paper entitled "Networking Power and Knowledge in Ancient Israel: In Dialogue with Deuteronomy and Michel Foucault" and participate in a wrap-up discussion.
Earlier this year, Christian published an essay entitled, "Mediterranean Grottos and Phoenician Maritime Expressions of Religion," in Mélanges Josette Elayi: Phéniciens d'Orient et d'Occident and several articles in volume seven of the The Encyclopedia of the Bible and Its Reception, with 14 articles scheduled to print in subsequent volumes.
Christian has two articles in press including "Introducing the Introduction of Eckart Otto's Deuteronomium Kommentar: Part1," in the Special Twentieth Anniversary Edition of Zeitschrift für Altorientalische und Biblische Rechtsgeschichte and "Whose Rites and Whose Wrongs: Religious Contributions of Contingents within the Persian Navy," in Religion in the Persian Period: Emerging Judaisms and other Trends.
In July, the Expressions of Religion in Israel program unit, a unit chaired by Christian, co-hosted a special panel with Dr. Saul Olyan of Brown University at the International Society of Biblical Literature's meeting in Vienna. The panel included six Israelite religion specialists who outlined their accomplishments and addressed the question, "where do we need to go from here."