Belmont double alumna I'Ashea Myles '14 recently began her eight-year term as the State of Tennessee 20th Judicial District Chancery Court III judge after winning the 2022 Tennessee State and Federal Primary Election. Myles' new position is not only a personal victory but a pioneering accomplishment being the first Black female in Davidson County to serve as chancellor.
Myles continually emphasizes the importance of representation in the legal community, a key message of her campaign. As a maverick in her position, the magnitude of her impact is still unfolding, often unexpectedly.
"I had a lawyer come in who regularly practices in Chancery Court and after she gave her argument, she got emotional and started crying," Myles recounted. "She said 'I don't think you understand what your being up there means.'"
Since coming to Belmont as a freshman, the Cincinnati native has repeatedly garnered success and established a reputation of distinction, paving the way for the increase of diverse representation in the places that she occupies. "In any space, there has to be someone who blazes the trail," Myles said.
The intentional effort of a Belmont recruiter when Myles was a freshman in high school made a lasting impact and paid off when she made Belmont her preferred school of choice over another prestigious institution. "Her name was Jody and we just kept in touch," she remembered. "I was looking between Belmont and Julliard. Jody would call in and check and make sure things were going well."
Myles was one of the first students at Belmont to receive the William Randolph Hurst Scholarship, a merit scholarship for students of color. She and three other scholarship recipients, all Black, female students – created a close-knit community at Belmont, a predominantly white institution (PWI).
Considering herself a late bloomer, Myles kept a sharp focus on her academics, cultivating strong faculty connections and finding community in the Black Student Association (BSA) which at the time consisted of just a handful of members. Her found community offered the support she needed to remain at Belmont to earn her bachelor's degree in music. "The Black professors that we had in addition to our small group of eight to ten folks, I think, helped make sure that all of us successfully matriculated," Myles said. "Not that we would not have done it, but I don't know how many of us would have remained at Belmont without such a small, close-knit crew."
"Belmont is a different place than when I was there," Myles said. "I think that Belmont took a chance on four very bright, young ladies. They utilized us girls a lot to show that Belmont is a welcoming community."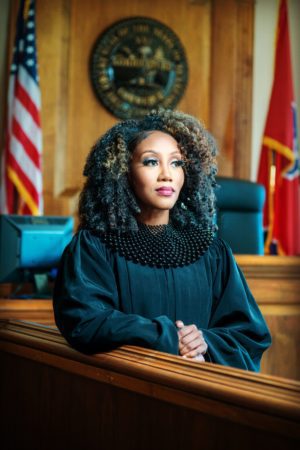 Her decision to pursue law was motivated by a lack of representation in the field. Belmont's new college of law would set Myles on another trailblazing path. She was a member of the inaugural graduating class from the Belmont College of Law, whose bar passage rates outperformed many state programs.
Working on projects like the National Museum of African American Music, Myles excelled as an attorney in construction law, an area where few Black female attorneys have ventured let alone flourished. "I made a way as a Black, female construction lawyer. There was nobody that looked like me," she said. "In that, there was a whole wealth of business for me to get. People could identify with me, and they wanted to work with an African American construction attorney, so I got to do the work."
Myles' twenty years of business and legal experience set the mother of three apart during her campaign. Serving in Chancery Court, a range of cases from name changes to inmate petitions, to construction and real estate cases pass her desk. Her life experiences and point-of-view as a Black, female mother provide a fresh perspective to the bench and help her accomplish the goals she has for herself in the role of Chancellor.
"My job, being in this space, is to mete out justice fairly and equitably for everyone who comes in my court," Myles said. "It's also to plant seeds for the next generation because there will be somebody like me. A little brown girl with a big name who wants to do something that nobody else has done."