Politics have always seemed further than an arm's length away for me until I got a hands-on experience to see the 2023 Nashville mayoral debate proceedings up close. Prior to debate day, I was given the opportunity through Belmont University to publish a story with The Tennessean about issues I saw plaguing Nashville. It was a full-circle moment to hear some of the candidates voice my same concerns on the Fisher Center stage that I wrote from my bedroom. This experience not only aided me in my local awareness but my active engagement. I felt like my words were taken off the page and applied to real issues.
Seeing my name followed by "Guest Columnist" was a surreal moment and I was incredibly thankful that I was given the space and platform to share my voice. I was so excited from my home state of Michigan that I sent my boyfriend on a mission to purchase the physical newspaper in Nashville so I could always have it tangibly in print.
When given the choice to attend the debates or be behind the scenes with the candidates, I chose the latter. I have been an observer; I wanted to be a converser. I had seen the candidates as politicians, I wanted to meet them as people. I booked a flight to Nashville. After one layover, missed flight, and Uber, I finally arrived at the Fisher Center ready to be amidst the action (and to never step foot in an airport again)!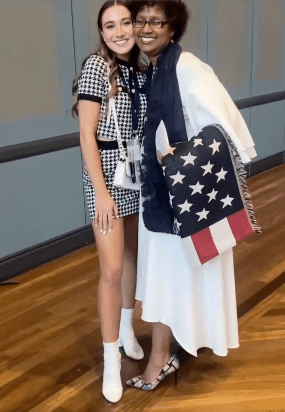 As a volunteer, I escorted Matt Wiltshire, assuming the role of liaison between my assigned candidate and Belmont University. I briefed my candidate on the logistics regarding debate day and acted as a representative of Belmont's hospitality. Matt Wiltshire was a pleasure to work with– his witty humor and pleasant demeanor contributed to my enjoyable experience and memorable evening.
From Matt Wiltshire asking me first thing: "So, what's your story?" to Natisha Brooks complimenting my outfit and asking to pose for a picture with me, the humanity of these candidates transcended their politicalness. Their intentionality and genuine, down-to-earth attitudes were evident even when they weren't mic'd up.
I am very humbled to have been in the presence of so many great people and minds, all passionate about the same thing–our beloved city. I am looking forward to future involvement with this race and the corresponding exchange of ideas, actualization of promises, and the realization of the city we all want to see thrive.