From Bentonville, Arkansas to Nashville, Tennessee… when Garrison Snell came to study at Belmont University in 2011, he believed the University's "From here to anywhere" slogan to be true; he just didn't know how quickly his own dreams would become a reality or how far-reaching his future might be.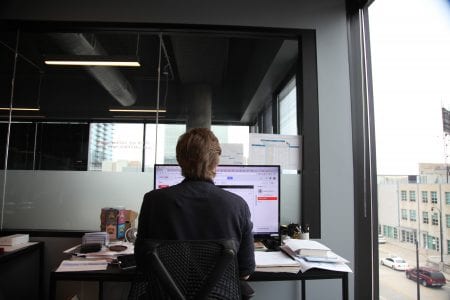 A 2015 Honors music business graduate from the Curb College of Entertainment and Music Business, Snell dove into his journey as an aspiring entrepreneur within two days of his Belmont commencement. He began working full-time on creating, growing and operating his own digital marketing start-up, Gyrosity. Profitable within the first month, Gyrosity earned respect in the marketplace, so much so that the company was purchased this summer by New York-based Stadiumred Group, a marketing and communications holding company. Stadiumred also acquired a stake in Crosshair Music, a music influencer marketing platform Snell also founded. Snell will continue in his roles with both Gyrosity and Crosshair to help lead the companies' future growth.
"We're excited to be able to bring Gyrosity's services and Nashville's character to an international group of clients," Snell said. "We plan to show the world, through our companies, what a Nashville-born and bred business can do.  Through that, we plan to keep growing the team and providing folks in Middle Tennessee a great place to work."
Stadiumred's clients include BMW Bacardi, Rolls-Royce, Fiji Water and The Recording Academy, among others, and the acquisition of Gyrosity/Crosshair is said to be valued at more than $1 million. Claude Zdanow, Stadiumred's CEO, said, "I've had the pleasure of working with Garrison for years and have relied on his expertise in digital advertising-focused marketing campaigns, not to mention that his experience in marketing for the music industry is second to none. Music is in our blood and, while we have done so much in music because of our history, as well as in the general digital advertising world, we really haven't scratched the surface of what Garrison and his team are doing."
For Snell, the journey to such tremendous success began at Belmont where he gained the skills–and met the future colleagues–who would be critical to his success.
"Belmont is the whole reason I was equipped for this adventure. I learned so much and met so many key people over my four years there. For example, my Creative Director (Shelby Wall, class of 2015) was in my Towering Traditions group as well as my Honors LEAD cohort. Belmont will always get full credit for this success; it was the perfect environment for education, practice and networking."
Snell continued, "I want all current Belmont students to know this: their time at Belmont is what they make of it. The age of 'get a degree = get a job,' in most disciplines, is very dead. Instead, you're paying for four years to work on yourself, your ambitions, your projects, risk free. You should work as hard as possible during those four years to acquire as many resources as possible so that once you graduate, your future is in your hands, not the hands of hiring managers. Belmont does a really good job of giving you access to people, access to professors and access to real decision makers. Now go get creative and use those four years to build the strongest argument as to why you should be hired over the next graduate. I'm excited to see what you all will do."
Through years of groundbreaking digital marketing campaigns, Snell has built an impressive roster of clients in and around the entertainment industry including CeCe Winans, Kenny Loggins, Bad Company, as well as organizations like Mellow Mushroom, TEDxNashville and others. Both Gyrosity Projects and Crosshair Music clients will continue to be served by them, but they now will have access to the Stadiumred Group's network to leverage enhanced capabilities such as brand strategy, robust creative, experiential marketing and public relations services.
"I am beyond excited to join the Stadiumred Group family and amplify our capabilities in so many areas," Snell said. "With our combined resources, we can push what we were doing at Gyrosity to a whole new level, offering innovative services uniquely tailored to each client all within one family of brands."
Beyond taking his company to a new level, Snell embraces this new opportunity to invest in his own personal, professional and spiritual growth while also seeking ways to serve his community. "I am first very excited to learn to be a better executive. Claude and his team are giving me a great opportunity to learn from their team, their partners and their financial backers. The value of that cannot be overstated, especially for a 24 year old. Secondly, I'm excited to grow Crosshair Music. I also plan to make a few local investments and see how I can best help the community. I've recently signed Gyrosity Projects up as an employment partner with Centerstone, an organization dedicated to reintegrating offenders into the workforce. My wife and I are also a part of a church plant called The Movement Church, and we're excited to keep pouring into that."