The two-resident program will be funded by the Christy-Houston Foundation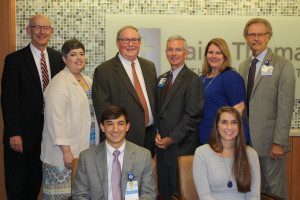 Belmont University's College of Pharmacy was established in 2007 and has graduated more than 270 students who have gone on to serve the pharmaceutical community through a variety of opportunities including hospital and corporation placements, community pharmacy placements, missions, managed care and research, among others. With the ever-increasing complexity and fast pace of health care service innovation, there is an increasing demand for pharmacists with post-graduate residencies that provide training in management, clinical service provision, alternative therapies and budgetary controls.
Nationally, there are 32 percent more pharmacists who desire post-graduate residencies than there are residency training sites, and last year, 3,933 pharmacists applied for the 2,964 available positions. To meet the needs of its students, Belmont University has partnered with the Christy-Houston Foundation to initiate a two resident post-graduate program at St. Thomas Rutherford. On July 1, Drs. Nick Brakefield and Maggie Goodman began residencies at St. Thomas Rutherford.
Dean of the College of Pharmacy Dr. Phil Johnston said "We are particularly pleased to work with the Christy-Houston Foundation and St. Thomas Rutherford Hospital in this venture. Drs. Hodgin and Farringer will serve as wonderful role models and mentors along with various health care personnel. This helps create jobs in Rutherford County, where the Christy-Houston Foundation focuses, helps the hospital expand its clinical and administrative services and helps Belmont establish additional training sites. Together, this partnerships will benefit recent graduates, the patients of St Thomas Rutherford Hospital and the residents of Rutherford County."
The Christy-Houston Foundation has provided $123,740 as seed money for the newly designed program, dollars that will support the program and ensure future sustainability. In addition to this gift, The Christy-Houston Foundation has provided funding for state-of-the-art equipment for Belmont's School of Occupational Therapy and the Christy-Houston Drug Information Center at Belmont's College of Pharmacy, a center that is utilized continuously by 300 students, 30 full-time faculty and over 700 volunteer pharmacists.