Belmont University is included this year in Variety's cultivated list of the top film schools and film school educators from the United States and abroad.
The list brags on Belmont's motion pictures department and the fact that students will shoot and edit their first film immediately after the semester starts. "The school boasts a 250-seat theater and sound mixing stage and it's one of those rare film school programs in which students have access to cutting-edge Dolby Atmos sound-mixing equipment," it says. "Classes are offered in directing, writing, creative producing, screenplay analysis, cinematography, set management, film history and genre studies, among others."
Chair of the Motion Pictures Department Will Akers is thrilled Variety has again recognized Motion Pictures with this honor. "After only seven years, to find ourselves on a list with the University of Southern California, La Fémis and the Beijing Film Academy is nothing short of extraordinary," he said. "The surpassing quality of our facilities and equipment combined with the skill of our industry professional teachers make our students some of the most fortunate, anywhere."
Variety's article discusses the COVID-19 crisis and how it affects film and digital arts programs globally. Now more than ever is a time for artistry to thrive and for aspiring filmmakers to draft the "blockbusters, TV series and indie films of tomorrow." These film schools and their faculty are not only preparing students for successful careers in the entertainment business, they are also guiding them with structure, encouragement and artistic expertise through one of the most turbulent eras in modern-day society.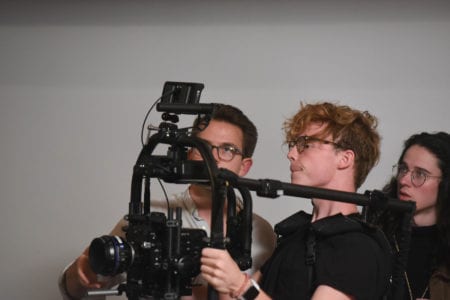 Dean of the Curb College of Entertainment and Music Business Doug Howard said, "Will Akers and his faculty team are student-centered and focused on instilling the quality of excellence in story telling while offering opportunities to learn the technical skills of film making. The program seeks to provide students with a professional education and to convey the importance of developing a mature and collaborative attitude needed to succeed in an extremely competitive, creative industry."
Akers added, "I'm proud to be at the helm of such a talented, hard-working team. Along with our staff, our teachers and students have worked incredibly hard to build a department that can be recognized with the finest film schools, anywhere."