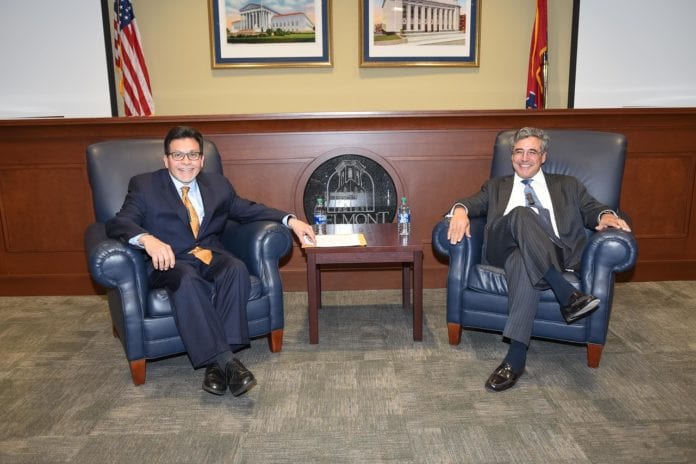 Belmont Law had several events on March 5 and 6 with Noel Francisco, current Solicitor General of the United States. Francisco spoke to current students and members of the Nashville legal community in a Q&A session with Dean Alberto Gonzales. He also spoke to first year law and Board of Advocates students.
As solicitor general, Francisco's job is to present arguments before the Supreme Court on behalf of the United States. He currently argues between seven and eight cases every term.
General Francisco explained that practicing appellate advocacy "is more like a golf game than tennis." He said, "You're not firing off one-liners at the other guy, you're playing against the course, and that course is the bench."
Francisco talked about his personal and professional background, including clerking for Supreme Court Justice Antonin Scalia. His father emigrated from the Philippines, and he is the first Asian American confirmed by the United States Senate to hold the position of Solicitor General. Francisco explained that he would like to see the diversity of the Supreme Court Bar increase.
Josh Kleppin, Belmont Law Board of Advocates president, said it was wonderful to hear a presentation from United States Solicitor General Noel Francisco. "General Francisco shared invaluable insights on his career in appellate advocacy and his preparation strategy before his Supreme Court arguments," he said.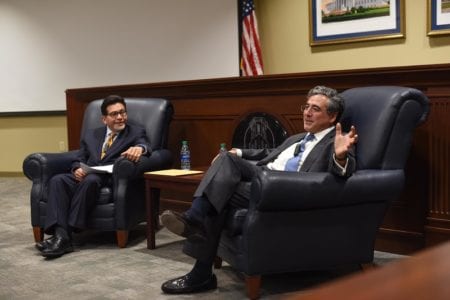 With such a high pressure job, Francisco shared that the afternoon before he argues before the Supreme Court, he goes to the movies by himself to stay relaxed. He then goes out to dinner with his wife and family. The next morning, no one in the office is allowed to talk about the case, unless he brings it up first.
Kleppin added, "I look forward to using his preparation techniques in Moot Court next year."