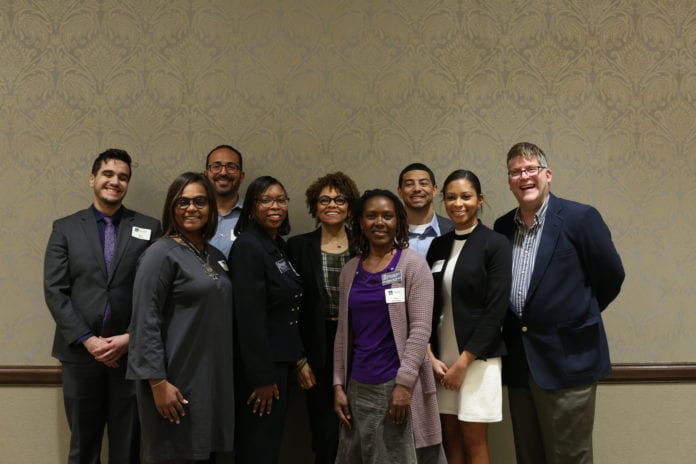 Belmont University hosted Diversity Summit 2020 March 6 – 7, with representation from administrators, faculty, staff and law students attending. Belmont's College of Law partnered with the Nashville Bar Association (NBA) to host the event on campus, and 130 people attended.
"Diversity Summit 2020: Setting the Vision for Diversity within the Legal Profession" was a collaborative effort of members of the Tennessee legal community designed to bring attorneys together from across the state to set concrete goals and create actionable plans for increasing the number of diverse lawyers hired, retained and promoted across business types. The Summit focused on the importance of moving beyond achieving diversity in numbers toward the higher goal of inclusion and equity within the workplace.
Criminal Court Judge Angelita Blackshear Dalton served as the Honorary Chair of Diversity Summit 2020. Belmont Law was one of the sponsors, along with various law firms and other entities including Baker Donelson, Bass, Berry & Sims PLC, BlueCross BlueShield of Tennessee, Bradley, Butler Snow, Community Law Group, Cornelius & Collins, DeSalvo Law Firm, PLLC, Eventbrite, Frost Brown Todd, LLC, GSRM Law, the Law Offices of John Day, Lewis Thomason, MGC Law, the Nashville Bar Association, Nashville Electric Service, Sherrard Roe Voigt & Harbison, the Tennessee Bar Association, TBA YLD, and Waller.
Belmont Law's Dr. Tracey Carter, associate professor of law and director of academic success, remarked that, "Belmont was considered the ideal location for hosting Diversity Summit 2020 because Belmont fosters an excellent environment of learning, and law students who registered to attend the Summit had access to hiring partners, managers and committee members from across the State of Tennessee, which I hope may lead to mentorships, job opportunities and other life-long connections."
On Friday, March 6, Janice Brown of Brown Law Group kicked off the event with the Opening Plenary Session on "Diversity & Action Plans." Two current third-year Belmont law students, Elena Ferguson and Lesley Smith, served on a student panel titled "Diverse Student Expectations Entering the Workplace" immediately following the Opening Plenary Session. The student panel was moderated by Dr. Carter and was followed by a corporate panel titled "In-house Expectations of Diversity," which included Chris Javillonar from Permobil and Terrence Reed from FedEx.
The first day of the Summit ended with a reception and dinner at the Marriott Nashville at Vanderbilt University with Keynote Speaker Ronald Harris, vice president of diversity and inclusion at BlueCross BlueShield of Tennessee. Harris asked attendees to think about the question,"What can you do today to honor the story of someone different than yourself?"
Diversity Summit 2020 continued on Saturday, March 7 with Sherri Neal, chief diversity officer at HCA, leading the Morning Plenary Session by discussing "Setting & Shifting Business Culture" and focused her discussion on building sustainable, competitive and strong cultures. 
The luncheon Keynote Speaker was Colonel Linda Strite Murnane of the United States Air Force (Retired). Colonel Murnane discussed "Our Duty of Care . . . To One Another," which asked attendees to consider the question, "What's the price tag people must pay for inclusion in your firm or workplace?"
The Closing Plenary Session, "Strategic Plan," was led by Brad Palmertree, director of community impact at the Center for Nonprofit Management, where attendees learned what an effective strategic plan looks like and then actively engaged in creating strategic plans. Throughout the day, participants also had the opportunity to choose from 11 breakout sessions related to diversity, equity and inclusion from numerous excellent speakers, including the session "Diversity as a Business Initiative," led by Belmont Law Alumna I'Ashea Myles-Dihigo of Bone McAllester Norton.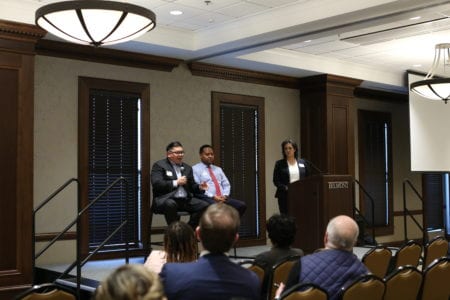 Dr. Carter explained that Diversity Summit 2020 was important for Belmont University and the College of Law because it increased the visibility and reputation of Belmont. "Being the host site for a statewide conference of legal professionals provided the opportunity for Belmont administrators, faculty, staff and law students to learn best practices for diversity, equity, inclusion and cultural competency within the workplace alongside hiring partners, managers, organizational diversity and inclusion officers, human resources officers, those responsible for recruitment and retention in a firm or organization, and attorneys from across the State of Tennessee and other states," she said. "It also provided networking opportunities for all those in attendance at the Summit."
Dr. Carter is a member of the Nashville Bar Association's Diversity Committee and has served as a member of the NBA's Diversity Summit 2020 Committee since 2018 when planning for the summit began. Dr. Carter was the lead person at Belmont in planning the Summit and was the liaison between the NBA, Belmont University and Belmont Law to assist with making Diversity Summit 2020 a successful event on campus. Belmont's Director of Community Relations Joyce Searcy also assisted with Diversity Summit 2020 and gave an enthusiastic Belmont Welcome to attendees.