The Store, a nonprofit free-referral based grocery store co-founded by Belmont alumnus Brad Paisley and Kimberly Williams-Paisley, marks its one-year anniversary this week. Located on campus, The Store's original model was significantly impacted by major events hitting the city and the world last March.
In response to the March 3 tornado that devastated parts of Nashville, The Store opened for in-store clients earlier than expected on March 12, 2020 to serve impacted families. But The Store was only open for four days when the COVID-19 pandemic became widespread, and it was obvious in-store shopping was not going to be feasible. A new plan was needed, and exemplifying the theme Better Together, staff, partners and volunteers all worked diligently to reach people in need as they were sheltered at home. A home delivery system for the elderly was immediately put in place with volunteers delivering to 48 elderly households the first week, and curbside pick-up was implemented for households in need. The weekly deliveries are currently capped at 450 households, and curbside pickup is at 200 per week, serving more than six times initial projections.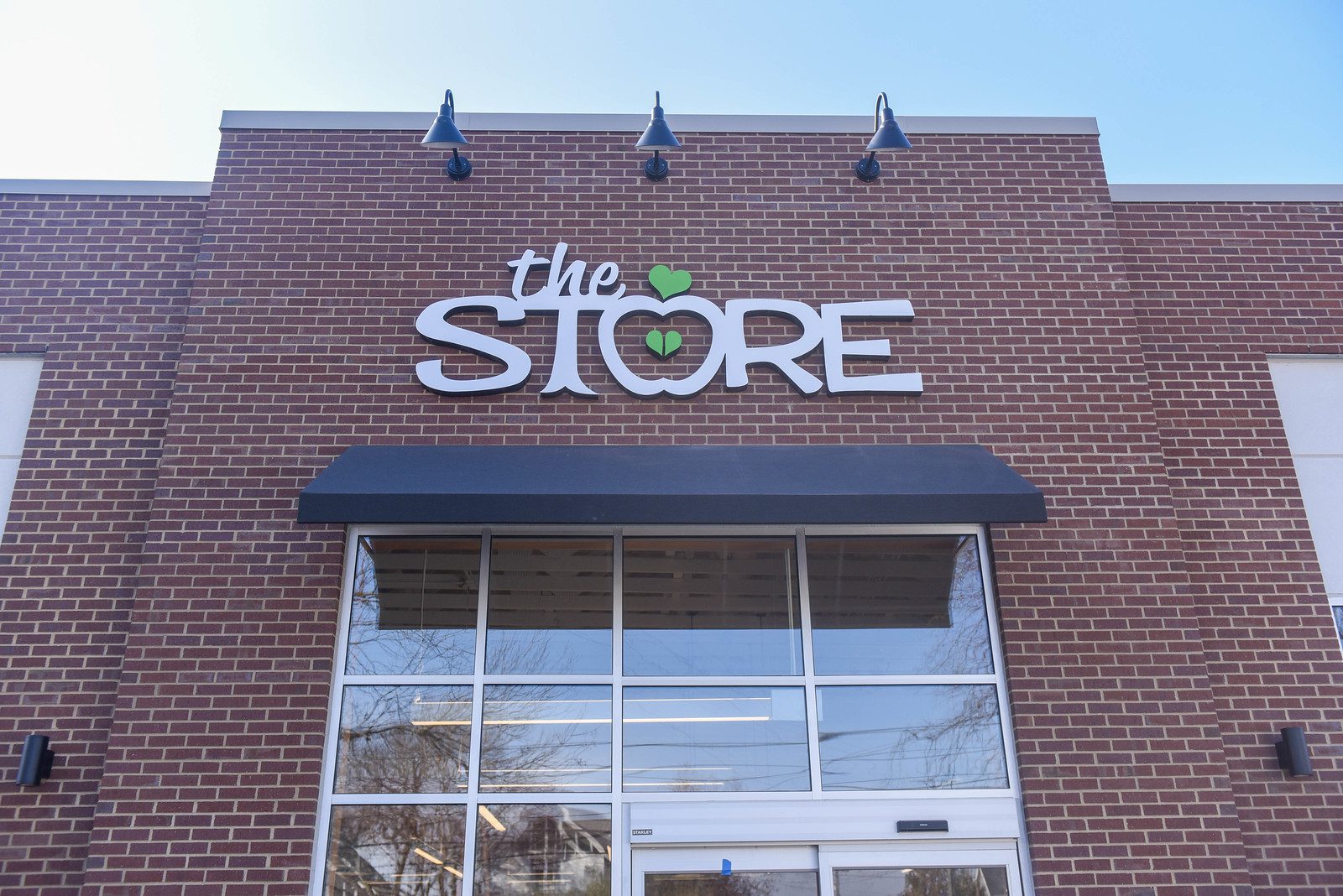 The Paisleys said, "When we started dreaming about creating The Store years ago, we never imagined we would open our doors just days from catastrophic events–the tornados and then the pandemic–that would greatly impact the need for assistance in our community for months and months to come… We couldn't have opened The Store without fantastic community involvement from many people and organizations, including Belmont University, our board, staff, referral partners, volunteers, donors and the Edgehill community. None of us could have done this alone. We are definitely Better Together."
The Store's success in reaching the individuals and families in need of services is due in large part to their referring agencies, which increased from the original six partners in March 2020 to currently 15. Again, Better Together. Clients are referred by the following nonprofit and government agencies: Vanderbilt Children's Hospital, Edgehill Community Partners/MDHA, Catholic Charities of Tennessee, Monroe Harding (Reengagement Hub), Conexión Américas, Country Music Association, Metro Public Health Department (COVID Reserve Group), Oasis (Transitions Program), TriStar Centennial Women's and Children's Hospital, Hillsboro High School/MNPS Hillsboro Cluster, Safe Haven Family Shelter, Amerigroup, End Slavery TN, Community Achieves Program and YWCA.
Courtney Vrablik, The Store executive director, added, "We are so grateful for our community partners who have worked with us as we rapidly adjusted our operating model to meet this year's challenges, our volunteers who stepped up to deliver groceries to our elderly neighbors, and our donors who recognized that their support meant food on tables this past year. I think it's been a great example of how Nashville is at its best when we work together."
The Paisleys partnered with Brad's alma mater, Belmont University, on the location of The Store at 2009 12th Ave. South, next to the University's Ministry Center. Belmont University offers legal aid clinics, therapy, counseling and nutritional education at the center, and through the Tennessee State "2-Gen Grant" is able to provide services to eligible families. Both groups will work closely together to serve the broader community in a variety of ways.
It is estimated that at this time 54 million people are suffering from food insecurity nationally. One in four are children, and one in six are elderly. The Store is thankful it is able to serve the community not only food staples but fresh produce, toiletries, household cleaners, pet food, diapers and other non-food items they may need provided by sponsors, partners and donors.
In honor of The Store's one-year anniversary, Brad Paisley was recently interviewed on The View, and the Paisleys' friend, actor Kevin Nealon, selected The Store as his charity to benefit during his recent appearance on Celebrity Wheel of Fortune. In addition, local NBC affiliate WSMV, ABC affiliate WKRN and FOX affiliate FOX17 featured the couple discussing the anniversary.
The Store Founder's Circle supporters include Belmont University, ESa, Sysco Corporation, Amerigroup, The Children's Hospital at TriStar Centennial, Nationwide Foundation, Kroger Foundation, Give – Steven & Alexandra Cohen Foundation and Brad Paisley and Kimberly Williams-Paisley. The Store's food comes from Second Harvest Food Bank of Middle Tennessee, Sysco, Fresh Point, and local growers such as Old School Farms and includes both perishable and nonperishable offerings. All the food in The Store is selected to be both nutritionally beneficial and fresh.
The Board of Directors for The Store include Brad Paisley and Kimberly Williams-Paisley, Co-founders; Megan Zarling, Board President; John Schario, Vice-Chair; David Minnigan, Secretary and Elaine Bryan, Treasurer. Other board members include Father Dexter Brewer, Sarah Cates, Jaynee Day, Pete Fisher, Doug Paisley, Michelle Rowe, Scott Scovill, Michael Stagg, Becca Stevens, Dawana Wade and John Zarling. Executive Director is Courtney Vrablik.
About The Store
Brad Paisley and Kimberly Williams-Paisley have partnered with Belmont University to spearhead The Store, a year-round free grocery store. Individuals and families will be referred by nonprofit and government agencies for a term of one year. There is no charge to those referred or to the people and agencies that send them. They may obtain food to supplement their income during times of crisis and as they work toward self-sufficiency.
A philosophy of community empowerment means The Store aims to help solve hunger issues in its community by developing programs to meet the needs of the community, including partnering with other organizations on issues of food security. The Store believes in cooperation and collaboration between organizations to better serve the population. Over time, the organization plans to develop additional supplemental services beyond the grocery store, such as job training, cooking and nutrition classes.