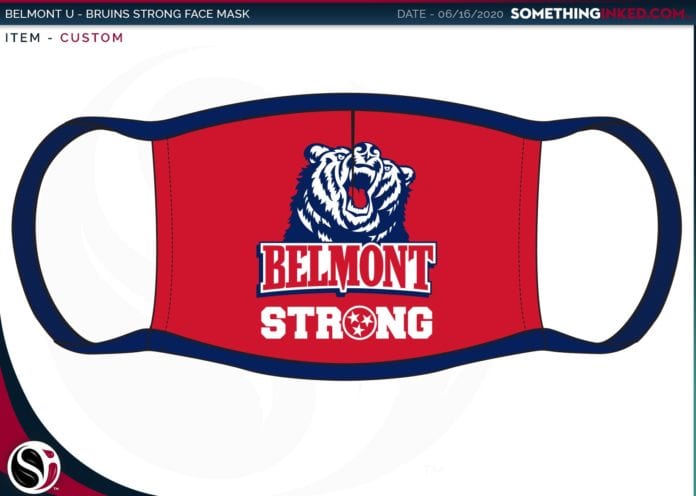 Belmont University is partnering with Tennessee Governor Bill Lee's Economic Recovery Group (ERG) on the new TN Strong Mask Movement, a plan to distribute more than 300,000 free or low-cost cloth face coverings across the state through partnerships with 31 flagship brands at a projected value of more than $3 million.
While Belmont will use a portion of the masks for its campus, many will be distributed to members of neighboring communities in partnership with The Store. The Store, which opened earlier this year, is a free, referral-based grocery store started by Belmont alumnus Brad Paisley and his wife Kimberly Williams Paisley, which provides groceries to people working toward self-sufficiency. Through this movement, patrons of The Store will leave not only with important food resources, but also a resource to help manage the risk of COVID-19.
Belmont President Dr. Bob Fisher said the University is proud to join these efforts as it takes Belmont's commitment to safety for both the Belmont campus and the surrounding community a step further. "The needs of our students, faculty and staff, but also our neighbors, are always a priority at Belmont," he said. "We want to be a helpful resource for our community, and we recognize this as an opportunity to help get much-needed masks into the hands of those who may not be able to afford them. Through our work with The Store and other community partnerships, we plan to provide these critical resources for those around us and to continue strengthening our relationships in our city."
The CDC recently released new guidance for public events and gatherings, strongly encouraging wearing masks to lower the risk of exposure and reduce the spread of COVID-19. As Tennessee continues to reopen the economy and residents and travelers alike move about the state, masks have become a crucial health accessory. Through the TN Strong Mask Movement, residents can stay safe while wearing brands synonymous with Tennessee from the worlds of sports, education and business.
"Tennesseans have stepped up to do their part and keep their neighbors safe throughout this health crisis," said Director of the Economic Recovery Group Mark Ezell. "The more we can celebrate masks and make them fun, the more lives we ultimately protect. These businesses are the heart and soul of Tennessee, and we're grateful to them for helping our citizens stay healthy and have a little fun sporting their favorite brands while they're at it."
Other participating brands include Amazon, BlueCross BlueShield, Bridgestone, FedEx, Nashville Predators, Ryman Hospitality Properties, Inc., Tennessee Titans, TriStar Health, Tractor Supply and several other Tennessee universities.
About Tennessee's Economic Recovery Group
Governor Bill Lee established the Economic Recovery Group, a joint effort between state departments, members of the legislature, and leaders from the private sector to build guidance to safely reboot Tennessee's economy. The group is led by Tennessee Department of Tourist Development Commissioner Mark Ezell.