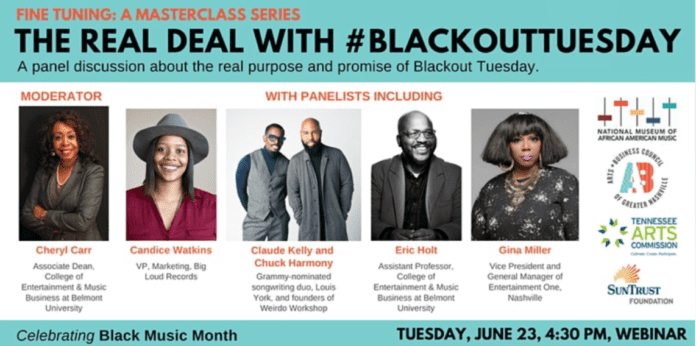 Associate Dean and Associate Professor in the Curb College of Entertainment and Music Business Dr. Cheryl Carr and Assistant Professor in CEMB Eric Holt participated in "The Real Deal With #Blackouttuesday," a panel discussion sponsored by the Nashville Museum of African American Music and the Arts and Business Council of Greater Nashville on June 23. 
The panel explored the purpose and promise of #TheShowMustBePaused, popularly known as #Blackouttuesday, an initiative designed to challenge entertainment companies' concerning exploitation of the musical contributions of African Americans. The discussion looked toward contemplating how to build a more equitable music industry for the future.
Carr moderated and Holt discussed as one of the panelists. Other panelists included:
Candice Watkins, Vice President, Marketing, Big Loud Records
Claude Kelly and Chuck Harmony, the Grammy-nominated songwriting duo, Louis York, and founders of Weirdo Workshop
Gina Miller, SVP and General Manager Entertainment One (eOne Nashville, Music)
About this panel series
Presented in celebration of Black Music Month, this panel is the first in a series of conversations about Black experiences and participation in the music industry hosted by the National Museum of African American Music and the Arts & Business Council of Greater Nashville as part of NMAAM's Fine Tuning: A Masterclass Series.
About Fine Tuning: A Masterclass Series
Fine Tuning is a masterclass that consists of instructional, contextual, theory-based lessons and professional development for aspiring artists and vocalists. Each course is taught through lectures, interactive music lessons and performance. This program allows attendees to learn in an intimate setting from professionals who have excelled in classical, jazz, blues, sacred, gospel, popular and hip-hop.
Read more about the speakers on the Eventbrite page.