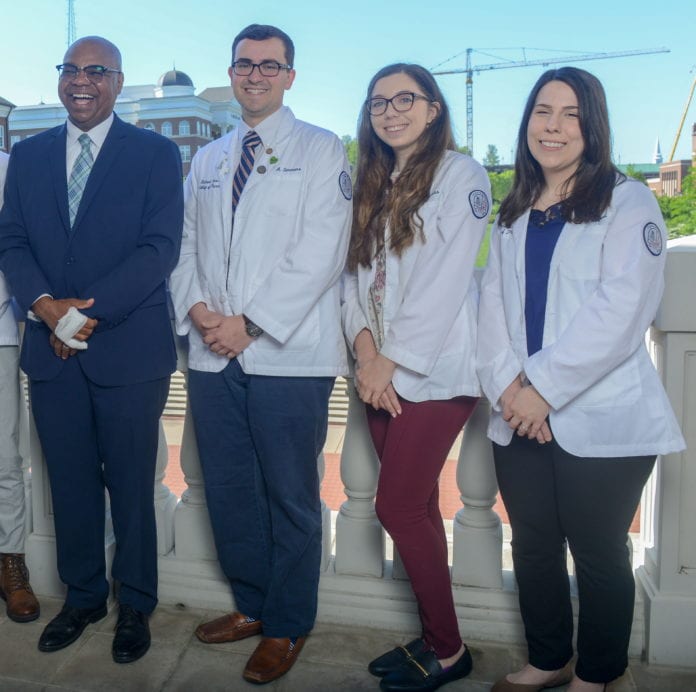 Tears of joy, hugs and lots of high-fives were abundant at Belmont University as pharmacy students revealed where they were accepted into residency this spring.
Belmont's College of Pharmacy fourth-year students joined thousands of students nationwide on match day, where each individual learned where they will continue their pharmacy training after graduation in May. Students within the Healthcare Informatics track that participated in the residency match will continue their careers as residents at institutions across the country this summer.
Belmont University's College of Pharmacy is becoming a nationally-recognized center for practice and leadership in pharmacy education with an innovative clinical doctorate. Building on the traditional Doctor of Pharmacy (PharmD) curriculum, the college offers students the opportunity to specialize in one of four areas: pharmacy management, healthcare informatics, missions and pharmacotherapy. Each of these areas educate students for life-long professional improvement and service as competent and compassionate practitioners.
"I could not be more pleased with the residency match results for students within the informatics focus," said Dr. Anthony Blash, the professor primarily responsible for the healthcare informatics concentration at the College of Pharmacy. "These results are essential to Belmont University's mission to empower men and women of diverse backgrounds to engage and transform the world with disciplined intelligence, compassion, courage and faith."
Dr. Angelina Babakitis of Phoenix, Arizona said she will move on to a fellowship with ConneXion360, a medical communications agency in Dallas, Texas. "This position will allow me to learn the skills required for communicating with healthcare providers for pharmaceutical companies and get my foot in the door with the pharmaceutical industry," said Babakitis.
Dr. Austin Simmons of Ardmore, Tennessee, who is headed to Magnolia Regional Health Center in Corinth, Mississippi for his PGY1 residency, was asked if his Informatics experiences came up during the residency interviews. "Yes, very much so. Whenever I was asked about what I was most proud of on my CV, I always talked about our team that developed an Amazon Alexa Skill with drug information we researched about the top 200 drugs. It definitely was something that I think stood out because I was able to have a long conversation about what we went through in order to achieve that goal and how I could apply what I learned to a residency," said Simmons.
Dr. Mary Lankford did not participate in the match, but was quickly hired in the marketplace post graduation. "I am excited to announce that I have accepted a pharmacy informatics position with the Dispensary of Hope, a not-for-profit, national charitable medication distributor based in Nashville. This is a diverse role that will allow me to learn more about the pharmaceutical supply chain while building skills in IT and predictive analytics, research and development and formulary management. I feel incredibly blessed to be joining such an amazing team dedicated to increasing medication accessibility and affordability to those most in need," said Lankford.