In collaboration with TEDxNashville, Belmont University's Executive Learning Network sponsored an event on September 17 that discussed what it means to be "We the People" ahead of hosting the third and final presidential debate on Belmont's campus in October.
Hosted by Senior Partner with Southwestern ConsultingTM Emmie Brown, each guest speaker shared personal anecdotes and imparted wisdom onto the next generation of leaders. Nashville Youth Poet Alora Young kicked off the event with a reading that set the tone for a hopeful future as she presented the opportunity to change the world despite being in the midst of hard times. 
The first speaker of the night was David Plazas, opinion and engagement director with USA Today and The Tennessean, sharing advice on initiating adult conversations. With an election right around the corner, he spoke on the importance of civil discourse now more than ever. Plazas challenged the audience to ask themselves what civility means to them and to consider their responsibility as citizens. Encouraging qualities of mutual respect and open-mindedness, he stated that public disagreement occurs if we limit our perspective in each conversation.
Lebanese American host and creator of the popular syndicated radio program "Radiolab," Jad Abumrad is also the creator of the podcast "Dolly Parton's America." His TED talk "How Dolly Parton Led Me to an Epiphany" was shared during the event, which ventures into his reasoning behind interviewing Dolly Parton, as the demographic of her fans is a diverse and accepting community of people. However, much of Parton's music emphasizes her love for the state of Tennessee which does not always share the same diversity as her fans. Abumrad interviewed Parton 12 times to further understand this paradox between her fans and her music.
Other speakers included Blake Simpson, Under Armour's Senior Vice President of Communication, Philanthropy and Events, presenting on the dangers of media misinformation and the power of choice with "The Role of Media in Politics" and Titus Kaphur with "Using Art to Bridge the Gap." Kaphur reflected on his artistic evolution and explained the timeline of his career — from "The Jerome Project," which draws on religious icons to examine the US criminal justice system, to "From a Tropical Space," a haunting body of work that centers around Black mothers whose children have disappeared. Kaphar also shared the idea behind NXTHVN, an arts incubator and community for young people in his hometown.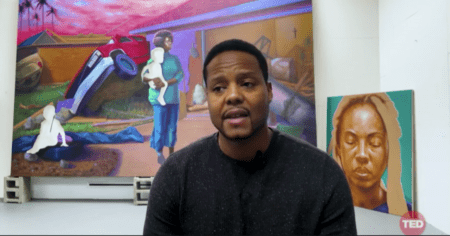 The night ended with Grammy and Globe-nominated songwriter Tom Douglas, who spoke on the power of rehearsing your history. Douglas has been nominated for multiple singles, including "I Run to You" by Lady Antebellum and "The House that Built Me" by Miranda Lambert. Douglas shared how rehearsing his own history helped him to recognize where his ambition roots from. He shared, "we live in a culture that tries to dismantle us," yet expressed the importance of confronting your past to heal. Douglas left the audience with many wise thoughts including "if you don't know where you have been, you're not going to know where you're going."
As the University moves towards hosting the presidential debate, the TEDxNashville event re-emphasized the debate theme of "Ideas of America," as the event not only discussed relevant issues, but also challenged the audience to continue the conversation after the evening ended to work toward being better citizens.
Members of the Belmont community can still access the event video through their MyBelmont account.
About TEDx
In the spirit of ideas worth spreading, TEDx is a program of local, self-organized events that bring people together to share a TED-like experience. At a TEDx event, TEDTalks video and live speakers combine to spark deep discussion and connection in a small group. These local, self-organized events are branded TEDx, where x = independently organized TED event. The TED Conference provides general guidance for the TEDx program, but individual TEDx events are self-organized.