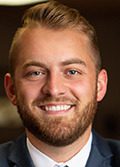 Daniel Warner, College of Theology and Christian Ministry alumnus, was named the West Tennessee Teacher of the year by the State Department of Education after considering eight other finalists. Warner teaches history at East High School in the Shelby County School system.
Warner also received the New Memphis Educator of Excellence Award and a James Madison Fellowship, which is given to secondary school history teachers.
Warner graduated in 2013 with his degree in Religion and the Arts. Recently, he was awarded a distinguished fellowship to work towards a master's degree. Read the full story in the Daily Memphian.