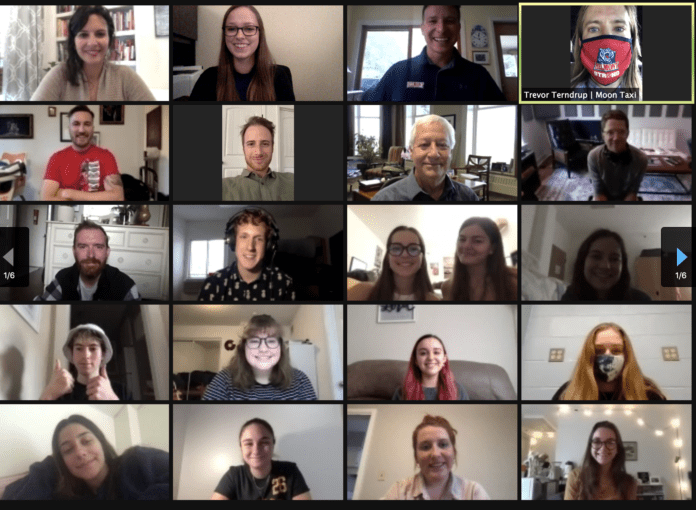 Belmont graduates and current members of indie alternative rock band Moon Taxi virtually sat down for an exclusive conversation with current students at Belmont University to give advice on the music industry ahead of their performance at the University's "Rock the Vote" event to celebrate National Voter Registration Day on September 22. 
The five-piece band consists of Trevor Terndrup, Tommy Putnam, Spencer Thomson, Tyler Ritter and Wes Bailey who shared how Belmont has encouraged and provided the band with many opportunities since their freshman year.
The band originally met on the steps of Belmont's Maddox residence hall and have been playing music together ever since. Bailey, the keyboard player, was the last to join the band after playing a set at the Curb Cafe on campus. Early on, Moon Taxi started to gain a following through Belmont's showcase series where they received the opportunity to play at the Ryman through the University's Best of the Best showcase. 
When asked about advice on personal branding, the band mates shared that the best way to do it is to "play a ton and promote every show like it's the last show you're ever going to do." The band started as their own businessmen and encouraged future musicians to take the initiative to do so. Putnam, bassist, shared that as an emerging artist, "you have to wear all the hats, manage yourself, promote yourself and book yourself. Then, one at a time, each one of those hats will come off and those responsibilities will start to go to someone else." 
The band also shared how their songwriting process has evolved throughout the years. In their past couple of albums, the band has tried to progress simultaneously with music and technology while still maintaining their authentic sound.
Moon Taxi has been presented with many opportunities such as traveling to Los Angeles, California and working with other talented musicians there. When it comes to touring, the band shared the excitement that comes from being on the road. Terndrup shared that being on the road is an incredible opportunity, but "you have to have leather hard skin." Putnam added, "More excitement and connection with your fans is something you can't replace."
However, being a part of the music business means being prepared for both touring and recording. Luckily, for Moon Taxi, these are two components the band seems to thoroughly enjoy as the band cherishes their opportunities of recording and connecting with their fans. Moon Taxi imparted wisdom onto the future generations of musicians to be persistent in the work that they do. It's important to "stick with it and figure out problems as they come up," they explained.