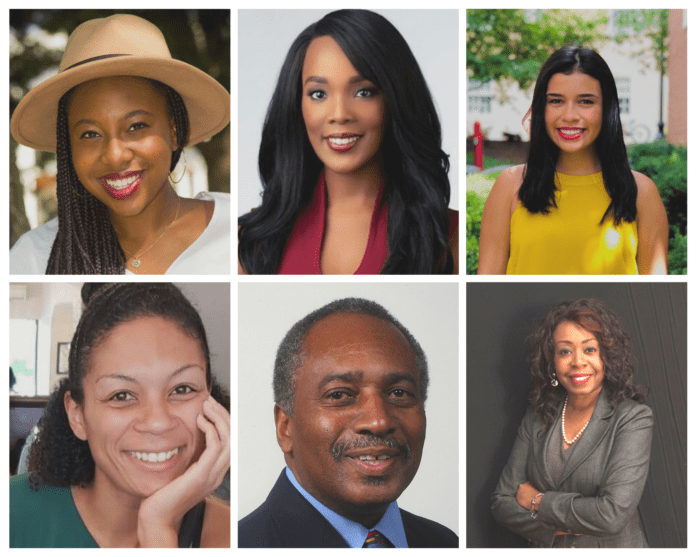 After a successful first year, Belmont University's Curb College of Entertainment and Music Business is bringing its "Minding the Gap" Diversity in Entertainment Industry symposium back this year with a more extensive lineup of events, speakers and panelists on September 23 and 25. With the goal to heighten awareness of gaps in diversity and inclusion in the entertainment industry, the symposium will offer a series of virtual, open-to-the-public panel presentations to examine gaps in the industry, both artistically and in terms of executive decision-making, in order to create a solution-oriented dialogue.
Organized by Dr. Cheryl Carr, associate dean of the Curb College and frequent author and speaker on issues of diversity and inclusion in the entertainment business, the event promises open conversation about topics timely in Nashville's entertainment scene and beyond. Carr said, "As an academic institution, our mission is to investigate and understand what's happening now, with a view to shaping the future. Not because a topic is popular, but because it matters. And inclusive excellence is important for the entertainment industry. I believe this Symposium is an idea whose time has come. Anyone who is interested in being part of a forward-thinking and balanced discussion is invited to join us."
"Minding the Gap: A Diversity in Entertainment Industry Symposium" is part of Belmont University's sixth annual Diversity Week, a lineup of virtual events designed for members of the community to engage in meaningful conversations surrounding diversity, inclusion, privilege, cultural humility and more.
The schedule for the "Minding the Gap: A Diversity in Entertainment Symposium" can be found below. All events are virtual and open to the public, but registration is required for some of the events. Please visit Belmont University's Diversity Week website to register for events or use the hyperlinks below.
Wednesday, September 23
12 – 1 p.m.: Educator's Forum: Teaching the Next Generation about Diversity, Equity, Inclusion and Social Justice in the Entertainment Industry
This session invites faculty to hear research presentations funded by the Curb College's Diversity Research grant, and to engage in discussion about DEI pedagogies. Research presentations by Professors Amy Smith and Jodi Marr in the Curb College. Register for this event here.
3 – 4 p.m.: Should I Change My Name? Artist Names in an Era of Racial Unrest
Moderator: Dr. Cheryl Carr, Belmont, Curb College. Simon Tam is an author, musician, activist and self-proclaimed troublemaker. Best known as the founder and bassist of The Slants, the world's first and only all-Asian American dance rock band. In 2017, he won a landmark case at the U.S Supreme Court, unanimously, helping to expand civil liberties for marginalized groups. His work has been highlighted in more than 3,000 media features across over 150 countries, including Rolling Stone, TIME, NPR, BBC and the New York Times. This discussion with Tam will provide an introduction to the Supreme Court case and examine just how controversial a band name can be, and why it matters. Event Access: Watch Here
Friday, September 25
9 – 9:50 a.m.: Black Female Filmmakers: The Power of Film to Create Empathy
Black women in film have unique stories to tell, and ways to tell them. These panelists discuss their experiences and expertise. Moderator: Dr. Amy Bertram, Belmont, Curb College. Event Access: Watch Here. Panelists include:
Roxane Pajoul, assistant professor of French at Tennessee State University, a Historically Black University. Her scholarly interests surround Taboo Topics (the perception of non-heteronormative sexualities in the Francophone Caribbean, mixed-race couples and race relations in France); Women and Gender Studies, particularly the representation of women in the media; and research interests pertaining to Black France.
Kayla Young, researcher, The Kelly Clarkson Show and alumna of Belmont University's Motion Pictures program
10 – 10:50 a.m.: The Foundation: African American Recordings from Nashville: 1946-1970
This seminar provides a look inside the rich world of Nashville's history of African American music and tells a little-known story as chronicled and told by Belmont Professor of Music Business Dr. Don Cusic, music historian, composer and author of more than 30 books on American music. Event Access: Watch Here
11 – 11:50 a.m.: The Black Music Action Coalition: Moving Toward Diversity and Advancement for Blacks in Entertainment
Moderator: Professor Eric Holt, Belmont, Curb College. Explore the status of trailblazing initiatives by the Black Music Action Coalition and other related industry groups to encourage diversity in entertainment and to create awareness of the disparities and possible solutions associated with minority representation, management and ownership in the entertainment industry. Event Access: Watch Here
12 – 1 p.m.: One Vote Won: Opera Watch & Talk-Back
As Belmont University prepares to host the 2020 Presidential debate, watch this opera world premiere about an African American's woman's story of voting. Produced by the Nashville Opera Company, composed by Dave Ragland and directed by John Hoomes, artistic director of the Nashville Opera. The streamed opera runs 35 minutes, followed by a live talk-back discussion with Ragland, librettist Mary McCallum and Hoomes. Event Access: Register Here
1 – 2 p.m.: The Role of Faith and Racial Justice in the Entertainment Industry
Join E.J. Gaines, co-executive director of Motown Gospel and vice president of marketing at Capitol Christian Music Group, Stellar Award Winner Janice Gaines, gospel recording artist, and Michelle Duffie, D3 Entertainment Group, as they discuss the intersection of faith and racial justice in the entertainment industry. Event Access: Watch Here
7 – 8:30 p.m.: The Value of the Vote: Pressing for Freedom
This program will start with a special presentation from C-Span entitled "Make Up Your Own Mind" highlighting how the non-partisan organization is a window into Washington. Afterward, a panel of distinguished journalists will address some of the most pressing issues surrounding the Election, voter suppression, fake news and more. This session is offered in partnership with the Nashville chapter of the National Association of Black Journalists. Moderator: Marissa Avnaim, Belmont, Senior Journalism major. Panelists:
Ameshia Cross, Producer & Host, "Cross Point" Sinclair Broadcast Group
Dwight Lewis, Retired Veteran Gannett Tennessean Columnist
Register for this event here.