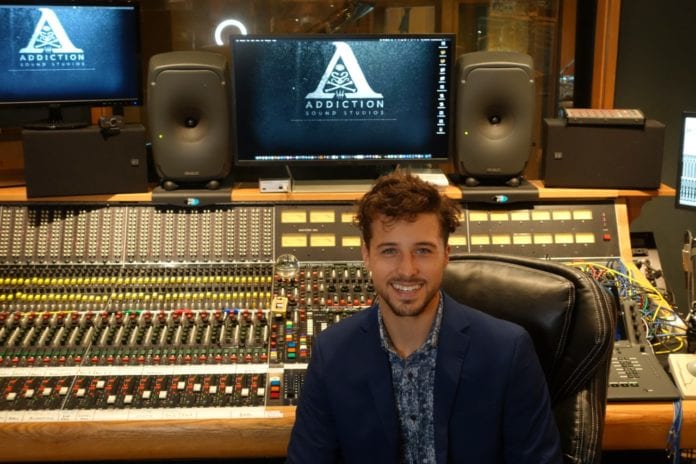 Braden Carei, a graduate student of Audio Engineering and track student-athlete, was selected as the the recipient of the 2020 Dr. Ilpo Martikainen Audio Visionary Scholarship, a grant that was established in 2018 in honor of Genelec's late founder Dr. Ilpo Martikainen.
Genelec offers this scholarship in association with the Audio Engineering Society Education Foundation to students who have a passion of advancing audio through innovation and technology development.
Carei told Genelec, "To receive a scholarship that is in memory of such an influential pioneer in audio technology is an honor that many people would dream of. For this upcoming year, this scholarship will give me the opportunity to focus on my final year of education in the field of audio, which will prepare me for my entrance into the professional audio world, where hopefully I can live up to the name of the scholarship and help to advance the field of audio, just as Ilpo Martikainen did with his time in the field."
Now in his second year of Belmont's Masters of Audio Engineering program, Carei also studied both audio engineering and computer science at Belmont for his undergrad. He worked closely under the direction of advisor Dr. Eric Tarr to develop a cochlear implant and hearing-aid simulator that runs in real time in a digital audio workstation. The project was later reconstructed as an iOS application, and Carei and Tarr presented this project at IHCON and the Midwest Conference on Cochlear Implants.
Another project of note is Carei's website created with Dr. Scott Hawley to classify audio samples. In his first year of graduate research, Carei ran a study to find whether or not germanium transistors have a perceptual sonic difference when compared to a silicon transistor. He noted to Genelec, "Utilizing guitar pedals with these transistors, it was found that the there was a perceptual difference at low distortion levels and that there was no preference difference between the tones of the circuits."
Carei and Tarr recently collaborated to develop tutorials for the Unreal Engine gaming architecture protocol, a project funded by video game developer Epic Games. The tutorials will focus on video game audio and audio processing within the engine.
Carei told Genelec that his future goal is to be an Audio Digital Signal Processing Engineer. "My degrees in both computer science and audio engineering will help me in this field," he said. "I would like to help an organization make sure that the most recent deployments of software are running as efficiently as possible."
Read more here.