Megan Swanson, an alumna with a degree in commerical voice and music business, made history when she was crowned Miss Nebraska USA. A successful entrepreneur, Swanson is also proving that pageant girls are more than a pretty face. She has created a six-figure business called Powerhouse Pageantry, a coaching service helping women around the world to ace pageant interviews.
"I've dedicated my life to the advancement of women but maybe not as you see on national news media," said Swanson. "I don't think women are weak or have necessarily been given the lower hand. I'm living proof that women can literally do anything they put their minds to, if you know who you are, work your tail off and never let your dream die."
Swanson uses her backgrounds in life coaching, ministry and the entertainment industry to offer unique and winning solutions for every client. However, the business is not solely focused on pageant success. Powerhouse Pageantry aims to help pageant women "unlock the winner within" by helping girls to grow in self-discovery for lifelong success. Swanson's clients have gone on to become headlining broadcast journalists, cardiac surgeons, dancers, CEO's, world traveling missionaries and more.
"But most importantly, we help them love who they are, discover their gifts, and operate in their purpose," shared Swanson.
When asked about the development of her passion for pageants, she shared, "When I passed on my crown to the next Miss Nebraska, I still had school to finish. I headed back to Belmont in the fall of 2015 with a completely fresh perspective on life, leadership and myself. We never know the ebbs and flows of the seasons of life or when they'll come. During my year as Miss Nebraska, my mom ended up losing her job. With the scholarship I won from Miss Nebraska, I was able to finish my senior year at Belmont."
During her senior year, Swanson recognized that as much as she loves singing and songwriting, she was an entrepreneur at her core. "I realized that what lit the biggest fire in me was helping people get unstuck along the journey and obstacles of life," said Swanson. "I was an athlete at heart with a gritty work ethic. So, why couldn't I run my own business, too?"
One of her first clients won Miss Minnesota's Outstanding Teen, placed Top 12 at Nationals and received a Top 5 placement for Interview, while the other got Second Runner-Up to Miss New York. Swanson finally thought to herself that maybe coaching was what she was good at, and Powerhouse Pageantry was officially born. Today, she has clients in 30 states that go on to start their own companies, nonprofits, become lawyers and live as loving wives and mothers.
Another history making aspect of her crowning as Miss Nebraska USA is that her sister, Allie Swanson, was also crowned Miss Nebraska. This makes them the first pair of sisters to ever hold both titles of Miss Nebraska and Miss Nebraska USA at the same time.
"Allie and I are best friends," said Megan. "Sometimes it feels like a dream because we are just so proud of each other. I'm her biggest cheerleader and she's mine."
The Swanson sisters grew up playing basketball, not competing in pageants. In 2014, Megan decided to compete for the college scholarship and audition for Miss Nebraska as her first competition and ended up winning.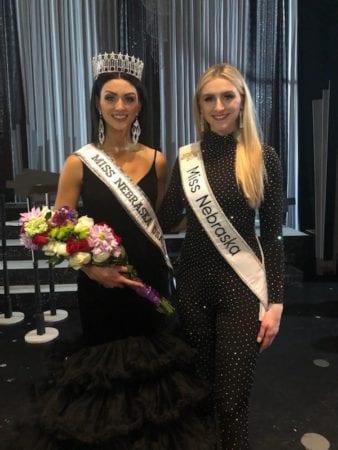 Allie then followed suit and won Miss Nebraska in that very same gown in 2019. "When I competed, I felt like I had a bit of my sister with me," said Allie. "It helped calm me down, allow me to have more fun and really feel confident."
After graduating college, Allie went on to create an educational workshop called CyberSmartz focusing on online safety and privacy. She's served at the keynote speaker at various conferences, speaks to schools, churches and businesses.