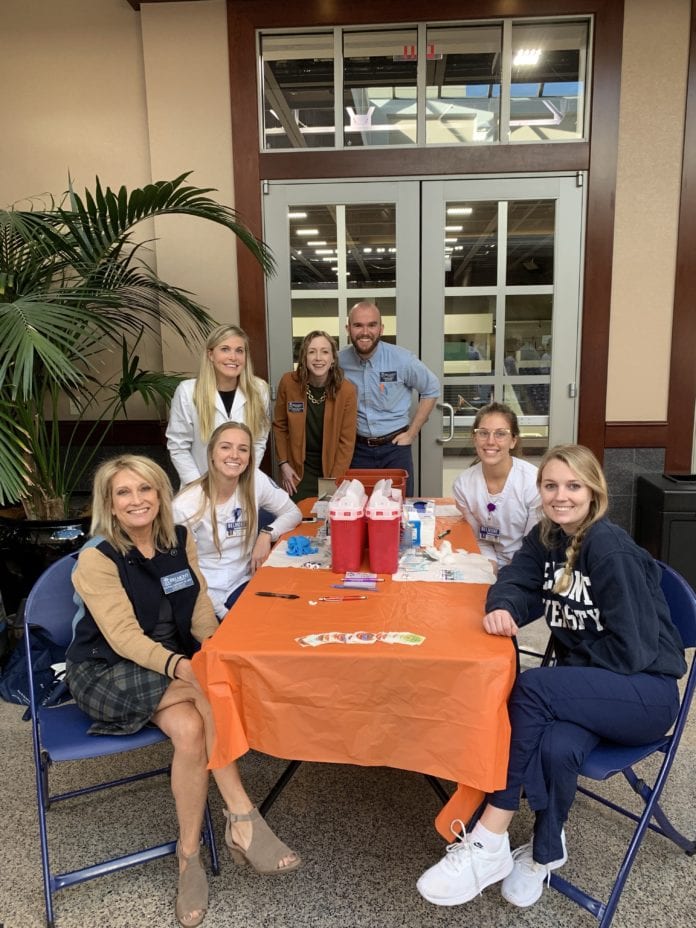 During the fall 2019 semester, nursing and pharmacy students held 19 flu clinics across campus, administering flu vaccines to 759 members of the Belmont campus community. The clinics were coordinated by Health Services Interim Director Krystal Huesmann in collaboration with DNP student Macy Ball, Associate Dean of Nursing Dr. Martha Buckner and Assistant Professor of Pharmacy, Dr. Kendall Shultes. More than 70 students were involved in this effort.
Ms. Ball's DNP scholarly project is entitled "Community of Immunity: A Process Improvement to Increase Influenza Vaccine Uptake." The project aims to increase influenza vaccine uptake among freshmen who reside at Belmont University and assess barriers and facilitators regarding the influenza vaccine.
In addition to the campus clinics, nursing students also participated in flu vaccine clinics for employees of the Nissan North America Headquarters in Franklin. Nine students participated in those clinics on four dates in October where more than 500 employees were vaccinated.
Flu is a contagious respiratory illness caused by influenza viruses that infect the nose, throat and sometimes the lung. It can cause mild to severe illness, and at times can lead to death. The best way to prevent flu is by getting a flu vaccine each year. The Centers for Disease Control indicates that as many as 8,200 people in the U.S. have died from flu since last October. This year children have been hard hit with 68 reported deaths.
Flu shots are still available in Health Services. Walk-in appointments may be available, but to avoid wait time, appointments can be scheduled by:
Student Health Portal or
Call (615) 460-5506
Health Services is open Monday thru Friday from 8 a.m. – 6 p.m. and Saturday from 8 a.m. – noon.