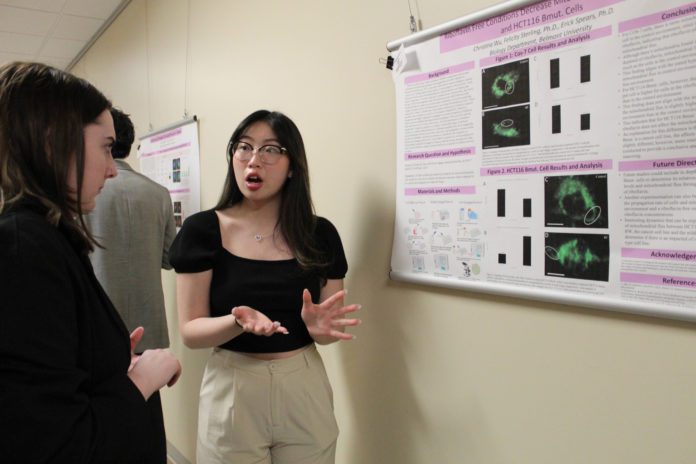 If you took an hour to peek into the Belmont Undergraduate Research Symposium (BURS) presentations that spanned the day on April 19, 2023, here's what you might have found:
Chemistry students talking about their semester-long projects, such as Muhammad Malik who experimented with methods of extracting betel oil from betel leaves using a new, greener process and found positive results.
O'More College of Architecture and Design students displaying their renderings for a Nashville Trail of Tears Memorial, such as Emily Schiedemeyer who designed a curved museum that celebrated the Cherokee people and their culture, or Jason Thomas who used his design to feature moments of respite and Corten beams that would create overwhelming sounds before visitors entered the central, soundproof "Astilla's Room."
Theater students talking about forms of theater they have spent the semester researching deeply, such as Katie Fraley sharing about the "theater of the oppressed," which creates empathy and acts as a catalyst for social change, or Mary Graham's project on Antonin Artaud, who's mental health, drug addiction and shock therapy led to his work in the "theater of cruelty."
Meanwhile, many presentations were simultaneously occurring from students in other disciplines across campus. This year boasted about 400 student presentations from across five colleges, including the areas of political science, biology, music, social media management, physics, communication studies, history and more. BURS is an opportunity for students from all areas of the University to present the outcomes of their work from the year.
Assistant Dean for Undergraduate Research & Pre-Health Advising Dr. Beth Bowman oversees BURS and described it as "an incredible celebration of our student's artistic, creative and scholarly work."
"Our students' education is not just built on the things they learn in the classroom, but their hands-on and discovery-focused experiences to dig into and wrestle with a topic," Bowman said. "This year really highlighted that the ways in which our students work on these projects help them develop skills and critical thinking that will stay with them through their careers. It is such an honor to help highlight the incredible work of our talented students!"
The keynote address for this year's symposium was presented by Vanderbilt Associate Professor of Medicine, Health & Society and Anthropology Dr. Kenneth MacLeish. His talk, "Research Perspectives on Military Experience, Mental Health and U.S. War Making," not only highlighted the complexities war's impact to society and the individual, but also showcased that even areas considered to be "hard" science, like medicine, have far-reaching and complex implications on those afflicted physically or mentally.
View a full list of this year's presentations from the symposium and a photo gallery below. Photos were taken by Katie Stace.