A woman gets bronchitis every spring. The only thing that helps is a steroid and a z-pack, or so she thinks. She finally decides to go to the clinic and learns that, unfortunately, she has been dealing with an undiagnosed case of asthma. After asking some questions about symptoms and medical history, her nurse tells her this is a chronic disease that is important to manage correctly and begins working on her treatment plan.
This situation isn't happening in one of Nashville's many healthcare facilities; it's happening on the second floor of the Inman Health Sciences building – part of Belmont University's new health care theater course being piloted this spring. The woman needing help is a student actor, being cared for by a Belmont graduate nursing student—all part of a mutually beneficial simulation.
Health Care Theater Course
As Belmont graduate nursing students train to be family nurse practitioners in clinical settings, they are required to see "patients" in a simulation setting where the professor will watch through a one-way glass window to assess their diagnosis. This requires finding actors to play the roles of the patient, and although Belmont students have served in this role a handful of times before, there was a need for a more reliable pipeline for collaboration.
A couple years ago, Associate Professor and Chair of Belmont's Theatre and Dance Department Brent Maddox had a conversation with Dr. Beth Hallmark, associate professor and director of simulation in Belmont's School of Nursing, with the idea to get Belmont's theater students involved more consistently with the simulations. That conversation would also set the wheels in motion of a new interdisciplinary connection at Belmont between health and the arts.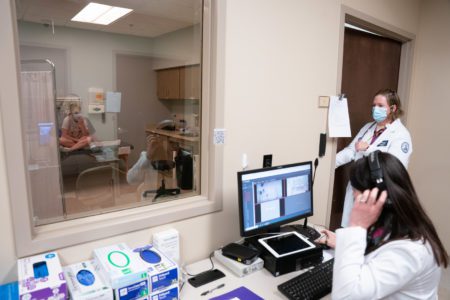 Co-taught by Nursing Associate Professor Dr. Erin Shankel and Adjunct Instructor Laura Skaug, who works as the senior standardized patient educator at Vanderbilt University Medical Center's simulation center, the course was launched this spring as a solution to that challenge, allowing theater students to get credit for participating in required simulations for the nursing students.
"The theater students are strengthening their improvisation skills in those experiences and giving the nursing students some pretty real-life situations to face too," explained Maddox. "Once the theater student moves beyond the script, the nursing student doesn't know where the actor is going to go, where they'll take it, what questions they may ask. It's great experience for the nursing student because the whole thing is meant to feel as real and honest as possible, as they'll have to learn to improvise with patients in real life too."
The faculty pointed out the class isn't theater as one normally thinks of it. While there is a theatrical component to this training, there is also the standardized component where all the actors are working from the same script and background materials and must approach the improvisation cautiously as not to give false medical information.
"We are trying to evaluate our students back-to-back just like a test: we want to give everyone the same test and the same material to see where everyone is at this point in our program," explained Shankel. "We can't do that in a real clinical setting because no two patients are alike, which is why these simulations are so important. Our actors really have to understand the character they are playing to the point that they can answer detailed medical questions, know the reactions to make and how to describe and show their symptoms."
Interdisciplinary Approach Across Campus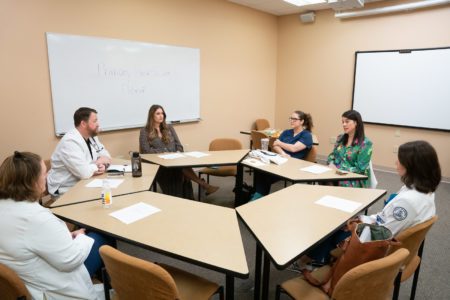 This health care and theater collaboration has unexpectedly developed into something more across campus, Maddox said.
"It seems like it's taken off into a whole new chapter," he explained. "It's turned into this whole interdisciplinary approach to arts and health at Belmont, which we didn't foresee with our initial vision."
Belmont's programs have engaged in various collaborations this spring that tap into multiple disciplines to create unique and diverse learning experiences that a single discipline emphasis doesn't afford.
A recent Music Therapy songwriting group brought an elderly community member's lyrics to life. Occupational therapy faculty have been speaking to classes in the School of Music about physical and mental wellness of performers, preventing injury and ergonomics specific to musicians and their instruments. And, a Belmont faculty member is currently spearheading a fundraising effort toward purchasing MP3 players for the TriStar Centennial Medical Center that will provide infants in the NICU with appropriate, pre-recorded music at a safe volume.
Music Therapy and Jazzmin
Dr. Alejandra Ferrer, coordinator of the Music Therapy program, supervises a practicum in the Women and Children's Hospital on a weekly basis.
"As a music therapist, I recognize and support the use of music to soothe and calm a baby, and I also recognize that there are evidence-based practices for the type of music that should be played for NICU babies to maximize benefits and minimize harm," she said.
Ferrer had the idea to donate equipment that would play appropriate music for the infants at a safe volume, automatically shutting off after the recommended amount of time. She set up an AngeLink fundraiser to gather donations for the equipment, with a goal of 30 speaker systems for the 60-bed unit so babies are able to keep the equipment through their discharge date.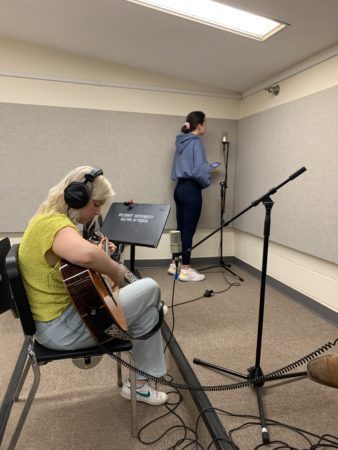 In talking with Kathryn Paradise in Belmont's School of Music about the project, a natural collaboration was formed. Paradise asked if Jazzmin, the student ensemble she directs, could partner with her in these efforts and record the lullabies for the MP3 players.
"Of course, I said, 'yes,' and now Jazzmin has recorded suitable, appropriate lullabies following the guidelines we have given them," Ferrer gushed. "So, these babies will be listening to our Belmont students on their MP3s, all with language designed to promote language development, auditory discrimination and following the guidelines of using musical elements with a premature population."
Arts and Health Summit
Associate Dean of the College of Music and Performing Arts Dr. Jane Duncan said a lot of the recent interdisciplinary approach at Belmont has been predicated on the creation of Belmont's new College of Medicine (which will have its own simulation center) and looking for ways to expand those cross-campus relationships between colleagues in CMPA and in the health sciences. A small working group was convened to take on that charge.
In March, the University held its first ever Arts and Health Summit, which featured six industry professionals who presented about their careers combining arts and health in various ways. Panelists included a hand therapist, an alumna who now works as a travelling drama therapist, the founder of a company that provides wearable technology for healthcare simulation education, the CEO of Hearts Need Arts—creative support for patients and caregivers, and the chair of music at Brenau University who teaches a similar course on arts in health care.
"We wanted to host these seminars to inspire those working in or who hope to work in the leading industries of the Nashville area – Arts and Health – to collaborate with one another. We hope the panels offered unique perspectives for our students on new ways to utilize their talents and strengths while engaging their passions," Duncan explained. "We want to be sure we are educating our students as fully as possible in the many, many ways that what they are studying here is going to impact their lives and other people's lives when they graduate."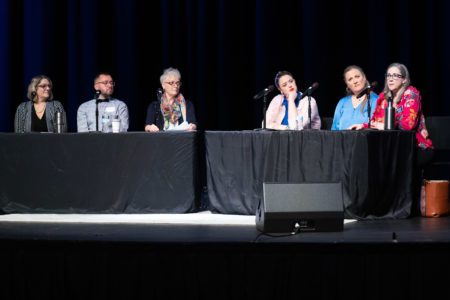 Summit attendees were also invited to have lunch to continue discussing ways in which those in these industries can continue amplifying holistic approaches to health. "We know the great work our music therapists are doing. We know the creation of the healthcare theater class was great. What else can we pursue?" said Duncan. "What kind of God-sized dreams could we have about this?"
Looking Forward
Maddox hopes Belmont will soon have an entire program devoted to students who want to go into art and health related careers, devoting curriculum to training those in the arts to support training of health care providers and beyond. Studying the arts can be about producing entertainment, but it can also lead to really purposeful, meaningful experiences like simulation opportunities.
"We are seeing more and more research that integrating arts with health care and health services is starting to become the norm because it's a therapeutic approach to the healing process of patients," Maddox said. "We are excited about next steps and certainly want to maintain the momentum in our interdisciplinary approach as we develop new programs that would build on that idea."
Duncan added, "Because Belmont is Belmont and we have outstanding programs in the arts and in health sciences, and because we are in 'Music City' where the number one industry happens to be health care, it makes really good sense to us," Duncan explained. "We have had folks from all across campus come together to spark conversations and we are now looking at what's possible for our next steps. I feel very excited about the conversations we are having."