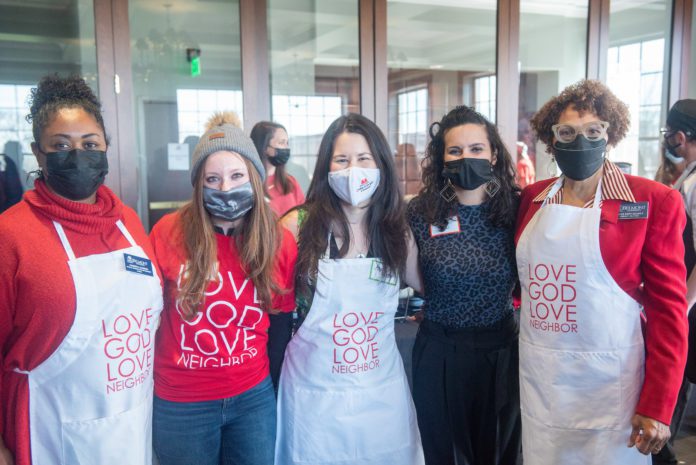 'Tis the season to be welcoming neighbors! While many families will be sharing holiday meals together this Christmas, there are also many who will be celebrating alone. That's why on Tuesday, Belmont welcomed local senior citizens to join the campus community for a special holiday brunch in the Harrington Place Dining Hall. Arielle Markowicz, a junior music business student, helped spearhead the whole project and rallied the campus together to pull off the event for the community.
The idea was born during a shift at Nashville's beloved Jeni's Splendid Ice Creams, when Markowicz began helping an elderly woman with her order. The customer told Markowicz about an ice cream recipe she used to have, and when Markowicz suggested she make it for her family over the holidays, the woman responded, "It's just me."
"As I returned back to behind the counter, I began to think about all the people who don't have any family or friends to spend the holidays with and what I could do to change that," said Markowicz.
This thought was not fleeting. Markowicz emailed Belmont President Dr. Greg Jones explaining the ice cream story and proposing an idea of a shared meal with the community. To Markowicz's surprise, Jones quickly responded to her and instantly jumped on the idea. "He connected me with Chief of Staff Dr. Susan West, who I met along with several other heads of departments of Belmont," said Markowicz. "We met in a conference room each week, planning and figuring out the logistics of how to put on an event like this."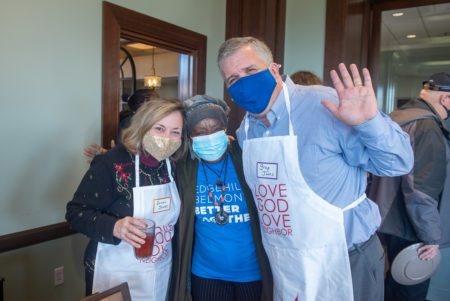 The Belmont community put all their effort into helping Markowicz's dream come to fruition and to make Belmont's surrounding neighbors feel loved, with more than 70 students, faculty and staff showing up to volunteer, serve food and spend time with the guests.
"It's who we are," explained Dr. West. "As we sit in the epicenter of Nashville with needs all around us, it is refreshing to have one of our students identify a need and experience the Belmont community come alongside to address it. Arielle's idea to serve our neighbors was such a prime example of how we equip our students, faculty and staff to be bridge building and community engaging people."
On the day of the event, dozens of guests were greeted by volunteers eager to welcome them. They were then served a buffet-style meal served in a festively decorated room and had the opportunity to converse with all of the volunteers. Guests were given gift bags made by the University Ministries team, filled with prayer cards and Christmas tree ornaments.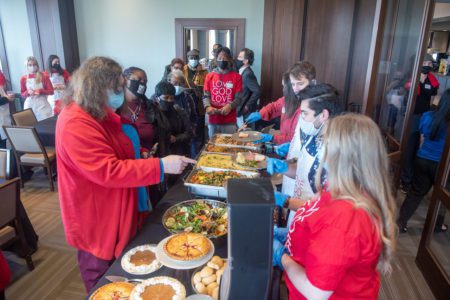 "It definitely could not have been possible without the help of every person who contributed, and I am so thankful for the Belmont Community for taking a chance on me and turning this idea into an incredible reality," said Markowicz.
"As we planned for this event, we really emphasized the fact that we are inviting people into our home here at Belmont, and therefore wanted to make sure that all volunteers, faculty and staff were as gracious and heartwarming as possible," she continued. "To be able to give that love and warmth to our neighbors is truly a gift."
Aside from making the guests feel welcomed, Markowicz also hopes that the volunteers in the event were able to feel the love they gave just as much as the guests hopefully felt the love they received.
One volunteer, Executive Assistant Canesha Conger, was touched by the connections she saw forming. "The Christmas Luncheon was beautiful in that it gave both the neighbors and students the opportunity to share their stories with one another," she explained. "One of the guests made the comment that the luncheon would be the only semblance of Christmas that she would have. This comment let me and others know how important it is to go out into the community and/or bring those in the community to us here at Belmont."
As the holiday season goes into full swing, it's important to remember those who don't have family to celebrate with. Just as Markowicz and the Belmont community rallied to bring together the local community, consider reaching out to people who are often forgotten about. Oftentimes the best gift a person can give is their company.