Belmont University's School of Nursing is one of 23 nursing programs from across the country to have been named a 2021 National League for Nursing (NLN) "Center of Excellence in Nursing Education." Belmont was formally recognized in the "Enhance student learning and professional development" category at the Honors Convocation during the 2021 NLN Education Summit this fall.
The Center of Excellence designation is a public expression of the ongoing, high quality, day-to-day work that Belmont faculty and staff do in preparing the next generation of professional nurses and nurse practitioners, reflective of a sustained pattern of excellence in nursing education set long ago.
Associate Dean of Nursing Dr. Martha Buckner said, "I am so grateful for the heritage of strong past leadership of this program and for our current faculty, staff and students who give their all in pursuit of excellence."
Buckner said the designation came after a year-long process of faculty reflection, planning, collaboration, data collection and writing. The lengthy application describes the School of Nursing as "a community of learners that fosters high levels of student engagement and professional development." The key emphases of the application included dynamic curricula at both undergraduate and graduate levels, Belmont's nationally accredited simulation center, a focus on interprofessional education and rich opportunities for service learning and community service.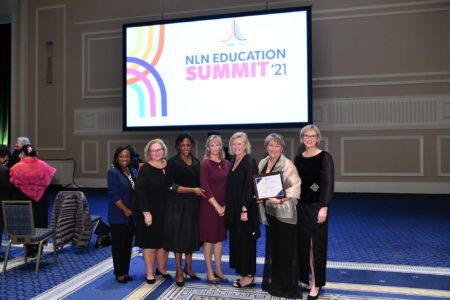 The NLN Centers of Excellence in Nursing Education program, established in 2004, publicly recognizes schools of nursing and health care organizations that set high standards, are committed to continuous quality improvement and demonstrate sustained, evidence-based and substantive innovation. These organizations are applauded for their vision to go beyond the norm and achieve excellence in student learning and professional development, pedagogical expertise of faculty or the science of nursing education.
"National League for Nursing Centers of Excellence help raise the bar for all nursing programs by role modeling visionary leadership and environments of inclusive excellence that nurture the next generation of a strong and diverse nursing workforce to advance the health of the nation and the global community," said NLN President and CEO Beverly Malone, PhD, RN, FANN.
Since its opening in 1972, the School of Nursing at Belmont University has remained focused on its mission of fostering a Christ-centered community that creates a culture of openness and mutual respect, excellence in teaching and the privilege of service. Belmont's School of Nursing offers a Bachelor of Science in Nursing, an accelerated second degree program, a Masters of Nursing and a Doctor of Nursing Practice. The school prides itself in its student's exceptional success rates. In 2019, the NCLEX passing rate was 93 percent and the FNP Certification pass rate was 100 percent. The School of Nursing takes pride in being a Center of Excellence and looks forward to future successes to come.
The 2021 NLN Centers of Excellence include honorees in the following categories:
Enhance student learning and professional development
Belmont University
Community College of Philadelphia
Georgia College and State University School of Nursing
Margaret H. Rollins School of Nursing
Oregon Health & Science University School of Nursing
Rutgers, School of Nursing-Camden
University of Alabama at Birmingham
University of Tennessee Health Science Center – College of Nursing
Ursuline College
Western Governors University
Promote the pedagogical expertise of faculty
Emory University
Samford University Moffett & Sanders School of Nursing
Uniformed Services University Daniel K. Inouye Graduate School of Nursing
University of Florida College of Nursing
University of North Carolina-Greensboro
University of North Carolina-Wilmington
Creating workplace environments that promote the academic progression of nurses
Cleveland Clinic
Duke University Health System
Morton College
The University of Kansas Health System, Kansas City Division
Advance the science of nursing education
Duke University School of Nursing
Indiana University School of Nursing
University of Texas at Arlington-College of Nursing and Health Innovation