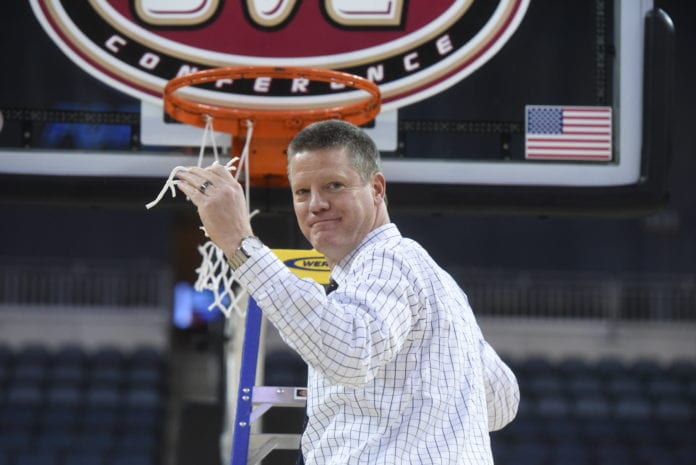 Jeff Goodman, Stadium Basketball Insider, recently published a list of the Top Men's Basketball Assistants in the OVC with Belmont's Brian Ayers being recognized in the top spot.
For each conference, Goodman polled at least 20 coaches (primarily assistants) and asked for them to name the top assistant coaches in their respective league.
Ayers, a Clarksville, Tennessee native, was the captain at Lipscomb for two seasons and graduated in 1993. He was an assistant at Austin Peay, spent two years on staff at Vanderbilt and has been on staff at Belmont for the past 22 seasons — including the last nine as the associate head coach.
Former Belmont Coach Rick Byrd told Stadium that Ayers touches all the bases a head coach would want. "High basketball IQ, does a terrific job on scouting reports of opposing teams, really detailed and extremely loyal to Belmont and the basketball program. He really cares about the players and they know it. He's an extremely good recruiter, very good at identifying the kind of player Belmont has been successful with," he said. "Brian is a really good teacher, excellent with post players. You rarely have to even give him a task as he is usually a step ahead, but is totally dependable to do anything and do it right. He deserves the opportunity to be a D-1 head coach — he is more than ready."
Another OVC assistant wrote that Ayers is "Belmont through and through." The list quotes the assistant, saying, "Has his handprint on the program as an assistant as much as Casey Alexander did as an assistant under Coach Byrd. Classy guy, who I would expect to be the next head coach there if and when Alexander gets a high-major job. Brian has the ability to recruit and develop all-conference post players, including Evan Bradds and Nick Muszynski. He is also very involved in scouting and bench coaching."