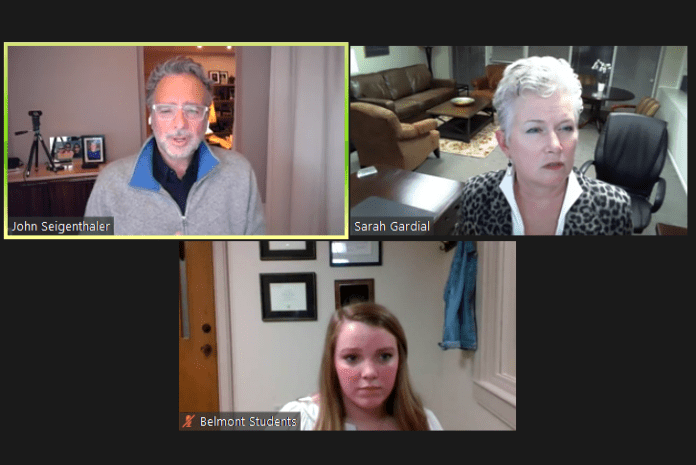 Belmont's Jack C. Massey College of Business, in partnership with the student-based American Marketing Association campus chapter, hosted a virtual conversation with John M. Seigenthaler as a part of the Debate 2020 Programming. Seigenthaler, former weekend anchor and correspondent for NBC and MSNBC, is current partner of Nashville-based PR firm DVL Seigenthaler.
The event, moderated by Dean Sarah Gardial, began with an overview from Gardial on the growth of social media use, especially among young adults, and the influence and impact it has on politics. The event featured a Q&A with students and Seigenthaler, providing insight to common questions of misinformation online.
Students studying varying interests from journalism and political science to music business and marketing presented questions for Seigenthaler regarding freedom of speech, fact checking, best practices to avoid spreading misinformation and influence of social media in communities and political climates.
"We all have a responsibility to stand up," Seigenthaler said. "What we can do is fight hate speech or fight misinformation or false information with truth."
Seigenthaler explained that while the social media platforms have a responsibility in the conversation of the spread of misinformation online, student leaders at Belmont also have a responsibility and opportunity to understand what is right and wrong and how the role they play in the conversation can help lead the way to change our society for the better.