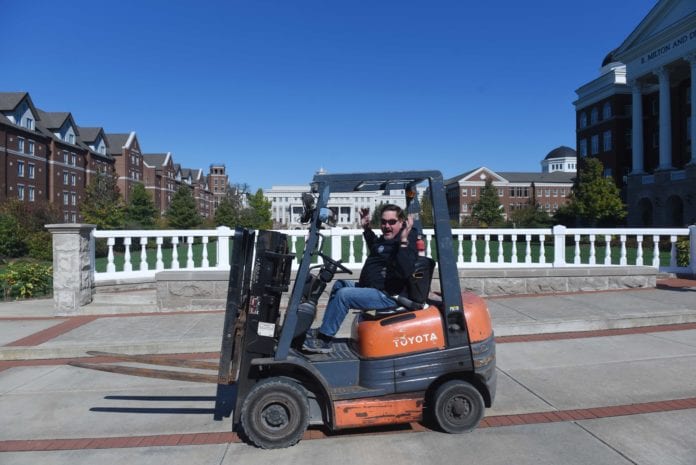 School of Music Facilities Manager Rusty King was named the 2020 Gabhart Award Recipient, announced as the winner in the University Staff Advisory Council's virtual Christmas celebration on December 18. Named in honor of the late Dr. Herbert C. Gabhart, who served Belmont selflessly for 50 years as president and chancellor, the Gabhart Award is the highest honor presented to a staff person and honors a member of the Belmont community who demonstrates significant achievements, commitment and service to the University.
King, a 1992 alumnus, began his career at Belmont in 2013 in the School of Music, where he continues to serve as the production and facilities manager. This past spring, he not only oversaw the procurement and installation of equipment needed for online teaching when COVID-19 hit, he was also involved in the logistics and planning for 2020 Presidential Debate and continues to be a highly sought-out consultant in the development of Belmont's new performing arts center. While his contributions to Belmont are numerous, of most importance are the way he treats others and how he goes about his daily work.
One of his nominators commented, "Rusty is always the first one to arrive and the last one to leave. He is generous with his time and never seems to mind going out of his way for faculty and students. Rusty needs a superhero cape. It does not matter what is needed; Rusty can make it happen. And, it happens with kindness. He is committed to excellence, respect, kindness and quality. Rusty takes care of anything and everything immediately and with a smile. Rusty lives out the 'It's all Belmont to me' mantra, not only with faculty and staff, but with students, as well. He has provided exceptional training and experience to hundreds of AET students who serve as MPAC production crew members and is a mentor to many, teaching them to be professional and kind. Like all who reflect the best of Belmont, he doesn't just stay in his own little circle."
Another nominator states, "No matter what Rusty is asked to do, whether in the School of Music or in the College of Music and Performing Arts or the University or for the broader community, he steps up. Rusty genuinely reflects the spirit and character of Dr. Gabhart by serving everyone he meets."
This year's Gabhart Award first runner up is Lougan Bishop who works in Belmont University Marketing and Public Relations, and the second runner up is Krystal Huesmann who works as Director of Belmont's Health Services. Past Gabhart Award winners include Angie Bryant, Don Purdy, Betty Wiseman, Sarah Cates, Gary Hunter, Joan Eakin, Bonnie Wagonfield, Anthony Donovan and Greg Pillon.