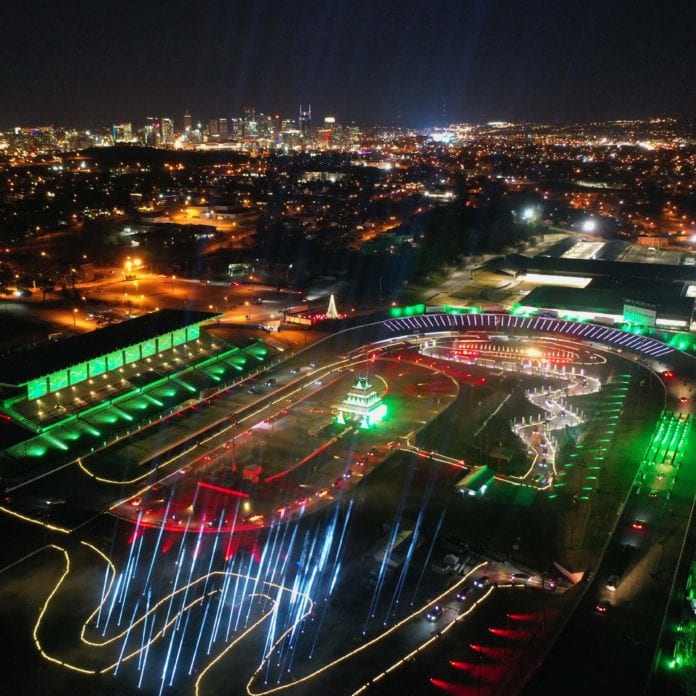 As a solution to the pause on live performances due to the COVID-19 pandemic, a team of Belmont alumni joined forces over the summer to develop Eamotion, a concept providing a pandemic-safe and contact-free, drive through immersive sensory experience. Eamotion's debut event, "Tempo," debuted in September, and after a successful run, the team is now back with a new, holiday-themed audiovisual show at the Nashville Speedway named "Jingle Beat."
Belmont alumnus and Eamotion Operations Director David Supica explained, "'Tempo' was largely a proof-of-concept event for us. Until that point, we did not have metrics on how many cars we could process, how ticket sales would do, what customer demand would look like, etc. Once we hit our final night of 'Tempo,' we realized that there is certainly a market for immersive drive-through events which encouraged us to launch a more ambitious 27-day run for 'Jingle Beat.'"
The infrastructure for "Jingle Beat" is 95 percent like that of "Tempo." The team, which includes Supica and other alumni Erik Anderson, Gordon Droitcour and Emily Buckner Pierce, based many of the structural builds off the same drawings from "Tempo" with a few select changes.
However, the programming for Jingle Beat is vastly different. Supica said, "We used different color palettes, custom video content and imagery to lean into the holiday theme. It's one of the exciting and unique elements that come with an Eamotion event. We can run two drastically different shows off the same infrastructure due to the flexibility of the site."
During a challenging year, Eamotion has offered employment opportunities for those in the entertainment industry. "It's been exciting just to be on site surrounded by colleagues from an industry that hasn't been able to do much of anything for the past eight months. Coming from a background in venue management and operations, I'm just excited to see people doing the work they love doing," Supica said. "The events industry has changed forever, and we plan on remaining dynamic and adaptive. The future of events is immersive, and we plan to continue to push into new types of immersive sound and light experiences with Eamotion."
"Jingle Beat" is ongoing now through December 31. Learn more and purchase tickets on the Eamotion website.