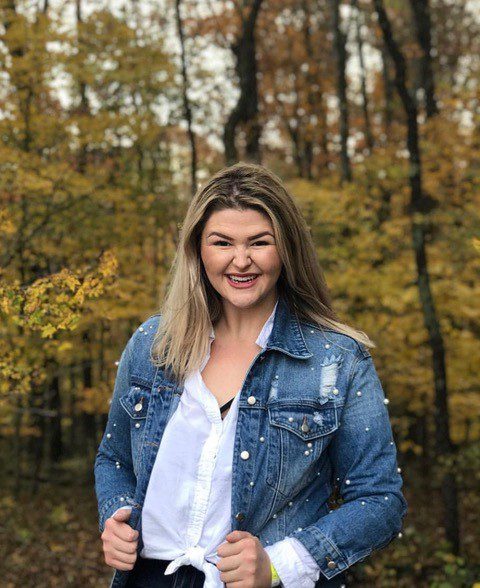 A Nursing major and May 2020 graduate, Hailey Brooks is this year's recipient of the John Williams Heart of Belmont Award.
"I am a foster care child. I say that with pride because I am proud of who I am despite the trauma and adversities I had to climb over to be here today," Brooks said. "I am among the one percent of foster children who graduate college and help break the stereotypes around foster youth. Today, that's my biggest accomplishment." Brooks is committed to spreading light on both the good and the bad areas of foster care and making positive changes in the foster care system, particularly by increasing foster youth college attendance.
The Heart of Belmont Award recognizes a third or fourth year student who possesses an intrinsic commitment to voluntary service, initiative and innovation in problem solving, persistence in overcoming obstacles, advocacy for change that enhances the lives of those in the community, mature understanding of community needs and systemic problems, sensitivity in developing a partnering relationship with community and habits of reflection that derive from service and lead to service.
Nursing Instructor Martha Ezell wrote in her nomination for Brooks, "Hailey voluntarily placed herself into foster care as a young teenager to remove herself from an abusive home. She is strong and resilient, yet compassionate and kind. In addition to the rigorous and demanding program of study for nursing, she has completed clinical rotations at eight different hospitals. Hailey is a remarkable student!"
Brooks grew up in East Tennessee and entered foster care at the age of 15. As a Belmont student, she joined the tennis club and the student nurse's association, as well as worked with an after-school program for low-income families to tutor children. She was a member of the Kappa Alpha Theta sorority for three years. Her junior year, Brooks joined Jim Casey Young Fellows, the youngest thus far to be given the role, and traveled the country to speak, research and shine a light on foster care issues.
Brooks was then asked to join the Children's Advisory Board underneath the commissioner, holding a four-year term. That opportunity led to being sworn onto the Tennessee Commission for Children and Youth under Governor Bill Haslam for a three-year term. She has also been involved in other foster care advocacy positions for many years, serving as a Youth Village Peer Advocate and as part of the Department of Children's Services Advisory Council. On top of it all, Brooks works as a patient care technician at Centennial Hospital, serving yet another sector of the community.
"All that I do is with the hope that I can make one small dent to help improve the world; whether that be through patient care or through advocacy for children who do not have a voice. All of the actions I have taken thus far are not for me but for the people whom I am helping," Brooks said.
In 2018, Brooks received the Court Appointed Special Advocate (CASA) Light of Hope Award, which honors those who have been "lights of hope" to children and youth in the community through advocacy and making a difference. As part of the Heart of Belmont Award, a donation will be made in Brooks's name to CASA.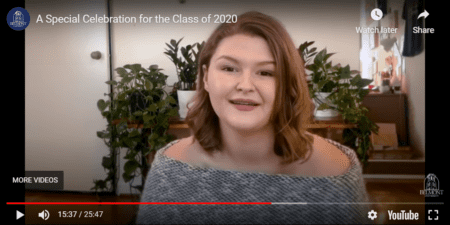 Brooks said she is not a 4.0 student or the student who raises her hand for every question in class. However, she is resilient. She said school has always been her safe place where she received positive attention and where she felt capable. Because of her problematic home life, Brooks knew that she needed to go to college to break the cycle. That is when she ultimately went into Tennessee State Custody.
In high school, Brooks remained a straight-A student while bouncing from foster home to foster home. It was not until she took several honors classes simultaneously that she broke her record. "I never thought that dream of being a college kid was possible, and I cried when I opened acceptance letters to every college I applied to," she said. Brooks balanced jobs and advocacy positions and still managed to graduate from nursing school. "I would never change a moment of my story, and I am thankful to have gone through college the way I have," she said. "Honestly, I still cannot believe I have made it this far and accomplished so much."
In the future, Brooks wants to grow as a bedside nurse and maintain her role as an advocate, as helping foster care children and lower income families is a huge passion for her. Eventually, she hopes to go back to school to be a nurse anesthetist and hopes to play a role with Doctors Without Borders. Brooks said she feels like her education experience is part of her toolbelt to help even more people. She hopes to touch as many lives as she can.
"I was shocked to be nominated because I did not know people were noticing the work I have put in," Brooks explained. "You see, in the world of giving back and having a servant's heart, sometimes it weighs us down with negative thoughts such as, 'am I making a difference, am I helping?' This award is a driving force to feel like what I am doing in this world is something I need to continue to do. It is a motivation to do even more. It is proof that I am making an impact. I am thankful for the nomination alone, as it is such a great feeling to feel seen by my mentors. I feel honored. I feel inspired."
Brooks also offered remarks at Belmont's virtual celebration for May 2020 graduates which can be viewed here or below.