Belmont Global Honors students recently took part in the Clinton Global Initiative University (CGI U) at Vanderbilt University March 3-5. The CGI U is a program of the Clinton Foundation that brings together college students, university representatives, topic experts and celebrities to address some of the most pressing global issues of our time.
Started by former President Bill Clinton, the CGI U is a project that seeks to engage and empower young people around the world to create positive change.
This year's theme was "Homecoming: Strengthening Community, Leadership and Action," and its program was lined with aspiring leaders and global experts in business, public service and social impact. Students announced Commitments to Action—specific, measurable programs that address an urgent community challenge. They also had the opportunity to network with other students from around the country and learn about new initiatives designed to help solve global problems.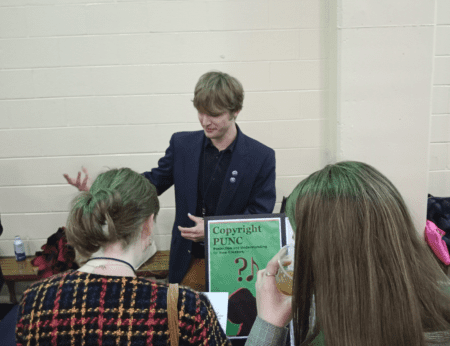 The Honors students, which included Alexis Susan Donofrio, Maya Englehorn, Eleri Hadaway, Noah Kammer and Ben Moran, were excited for the chance to work with their peers and leading professionals in various fields. Kammer, a freshman audio engineering student, made a commitment to create a non-profit called Copyright Protection and Understanding for New Creators (Copyright PUNC) that addresses the lack of available copyright information to music producing youth. "When I was younger and learning how to produce music, I needed to know information on copyright that would have saved me from facing restrictions on my online music accounts, burnout and having my creations stolen," Kammer said. "Participating in CGI U feels like a step closer to making that a reality for current children learning to create music."
Moran is a junior songwriting major who is passionate about improving literacy in Nashville. On CGI U's Day of Action, Sunday, March 5, Moran volunteered alongside an executive from PENCIL—a nonprofit organization that links community resources to Metro Nashville Public Schools—who helped him make meaningful connections to literacy partners in search of volunteers, which Morgan is now helping generate and connect through Belmont. "The biggest thing that I learned was that the way to get power is just by asking people certain questions and inserting yourself into certain conversations, being a part of it and taking initiative. That's something that never really clicked to me before. Now I'm just really excited to keep asking those questions to people and pushing it along and not giving up."
Moran and Hadaway are officers in Belmont University Volunteers for Literacy (BUVL) group, which is planning its 21st Annual Family Literacy Day Saturday, April 1, 2023 at E.S. Rose Park. Find more information about how to register and volunteer.
Participating in the CGI U conference was just the beginning for these students who will complete a year of programming toward their commitments. "The CGI U program is planned to continue for another year after this weekend where we will complete asynchronous modules related to our projects," Kammer said. "We will also get assigned a mentor that will help us with our Commitment to Action. After completing the program, we will then receive monthly newsletters with contacts of foundations willing to provide funding to our projects."
This year's conference, the first in-person CGI U since the start of the COVID-19 pandemic, has been hosted on previous campuses, including University of Chicago, University of Miami and more. Featured speakers and participants this year included Pete Buttigieg, U.S. Secretary of Transportation; John Cooper, Mayor of Nashville; Melissa Diamond, founder, A Global Voice for Autism; Pashtana Dorani, executive director, LEARN Afghanistan; Allyson Felix, five-time Olympian and co-founder of Saysh; as well as President Clinton, Secretary Clinton, Chelsea Clinton and many others.
Learn more about Belmont Global Honors here.