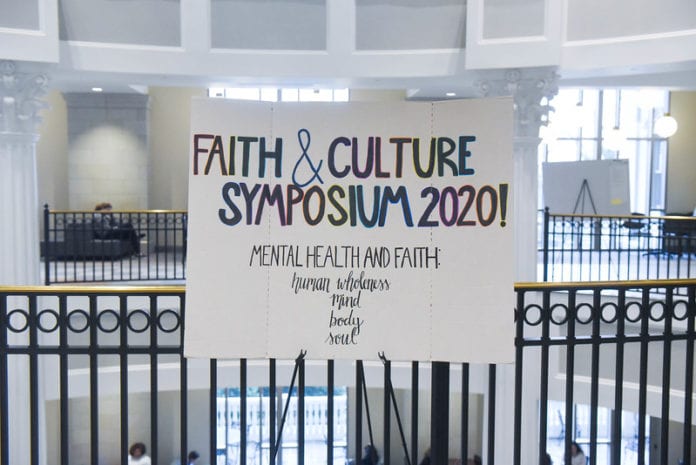 This week, the College of Theology and Christian Ministry hosted its 7th Annual Faith and Culture Symposium with a number of events surrounding this year's relevant theme, Mental Health and Faith: Human Wholeness, Mind, Body and Soul. Each event addressed the hot topic through various perspectives including theological, academic, cultural, social and artistic. This year's symposium created a space for the Belmont Community to partake in the larger conversation concerning the intersection of faith and culture. Throughout the week, the College of Theology and Christian Ministry offered events including chapels, panel discussions and a writers round.
The week kicked off with an inspiring chapel featuring respected womanist process theologian Dr. Monica A. Coleman, a professor of Africana Studies at the University of Delaware and ordained minister in the African Methodist Episcopal Church. Dr. Coleman shared with attendees her own journey with mental health and the struggles it brings in ministry and teaching.
An interfaith panel of Christian, Muslim and Jewish faith leaders occurred on Tuesday afternoon addressing how mental health is dealt with in various faith communities. Guest speakers Rabbi Laurie Rice, co-rabbi at Congregation, Sabrina Mohyuddin, executive director of the American Muslim Advisory Council and Amy Mears, co-pastor of Glendale Baptist Church, shared wisdom found in their respective faith's traditions in addition to practical strategies used to cope with mental health challenges within their faith communities.
"Within our cultures and backgrounds we all follow a variety of different belief systems, and we often define our identity with our customs from our diverse cultures and religions," explained freshman Ayla Schwartz. "When we look deep down, we are all humans that experience similar emotions and similar struggles, especially when it comes to mental health. This is what this symposium has taught me and something I will carry with me as I continue my path forward into my future." 
On Wednesday, another panel discussion took place at Belmont featuring its own Heather Daugherty (University Ministries), Dave Jaeger (Counseling Services) and Jamie Zeller (Be Well BU). The discussion served to raise awareness for the many resources on campus that are available to students to assist in achieving wellness in college.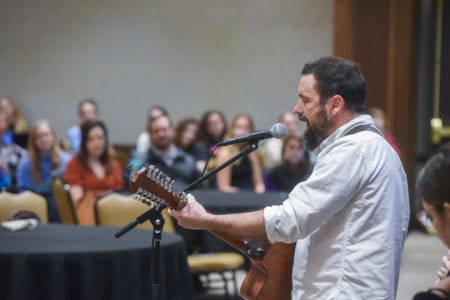 In a unique event, Belmont shed light on mental health and faith on Thursday through an art-focused approach, sponsored by the College of Theology and Christian Ministry Student Advisory Board. Special guests Drew Miller, Taylor Leonhardt, Eric Peters and Becca Jordan participated in the Rabbit Room Writers Round. The Rabbit Room is an assortment of local Nashville musicians, theologians, artists and pastors aiming to foster "Christ-centered community and spiritual formation through music, story and art." A cookie reception following the writers round allowed attendees to engage in meaningful conversations surrounding the topics of faith and mental health.
Concluding the Faith and Culture Symposium, a chapel was held on Friday featuring guest speaker Natasha Walker, MM, MT-BC, instructor of Music Therapy. Speaking to students about the role of music therapy and mental health, she focused on the intersection between music, mindfulness, faith and mental health.
"This year's Faith and Culture Symposium addressed a timely issue that deeply impacts all parts of the Belmont community," said Dr. Gideon Park, assistant professor of religion. "The week wrapped up with the Rabbit Room Writer's Round and the chapel featuring Professor Natasha Walker from the School of Music. Both events beautifully demonstrated the therapeutic role of music and mindfulness as an antidote to stress and anxiety."