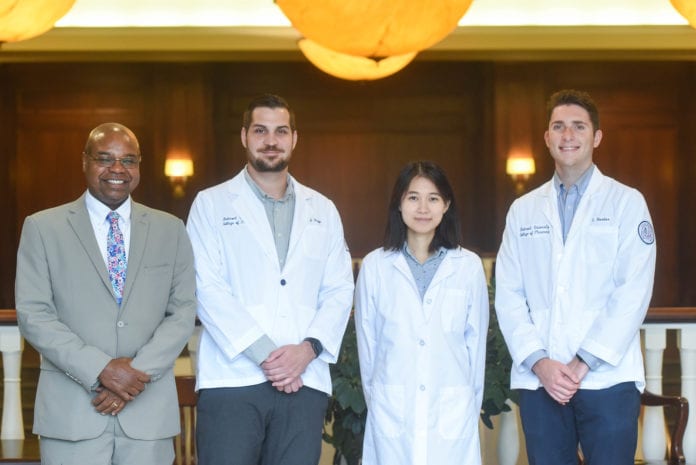 More than 2.8 billion prescriptions written annually in the United States fall under the Top 300 prescribed medications. Belmont University College of Pharmacy third-year students Julie Nguyen, Grant Harder and Joshua Page recently published patient counseling and education for the Top 300 prescribed medications on Amazon Alexa.
Amazon Alexa is a voice controlled artificial intelligence (AI) platform that has the ability to provide information upon request. As part of the Introduction to Healthcare Informatics curriculum in the Doctor of Pharmacy program at Belmont University, the students worked as a team to develop an application, or "skill" that is now available in the Alexa store.
The skill, "My Medicine Cabinet," was designed to increase the access of accurate and relevant drug information to patients and contains information for the Top 300 medications currently prescribed in the United States. While none of Alexa's skills should replace a consultation with a licensed healthcare professional, these skills can be downloaded for free online or through the Alexa app, which is now available for Amazon Fire, Apple and Android devices.
"I'm really glad we were able to do this," said Page. "This basic app can help a lot of people who may need basic information when pharmacists aren't readily available."
To download a skill, choose "Skills" from the Alexa app menu and search for the skill by name. Consumers can download this skill and activate it on demand, answering their questions with pharmacist-verified medication information at their fingertips.
Students in the College of Pharmacy study disease states and current treatment regimens. They also study various ways to communicate with patients and other health care providers. Alexa's AI allows patient counseling to move from the pharmacy to the patient's living room, increasing the reach of this communication.
"Having information about the top 300 medications in an easily accessible form like an Alexa skill can make a big impact on patient education," said Nguyen.
Dr. Anthony Blash, Pharm.D., BCompSc., CPHIMS, associate professor and lecturer in the College of Pharmacy's Healthcare Informatics concentration, has created a sequence of five courses and a one-month Advanced Pharmacy Practice Experiential (APPE) rotation at various sites in the city to prepare Belmont's student pharmacists to become future leaders in healthcare informatics.
"Nashville is considered by many to be home to the U.S. healthcare industry, with nearly 300 companies providing healthcare synergies found in few other places," said Blash. "If your interests lie in healthcare and informatics, our program stands apart. Our students have the opportunity to develop an impressive project portfolio during their time at Belmont, working on with many partner organizations on projects such as making High Risk Medication Clinical Decision Support to a Local Hospital, becoming Data Analysts with Microsoft SQL and creating Artificial Intelligence Software for Amazon Alexa."
As a HIMSS Approved Education Partner, Belmont University's College of Pharmacy is the only pharmacy school in the world with a healthcare informatics concentration leading to an internationally recognized certification in healthcare informatics, which may be obtained before experiential rotations, residency inquiries and job searches begin. The college also collaborates with organizations during the school year and takes on real world projects from regional partners.
"We provide free assistance to organizations that may not have access to the resources we provide," said Blash.
The informatics concentration at Belmont is collaborating with interested organizations to provide competent student and graduate healthcare informaticians with clinical expertise as Advanced Pharmacy Practice Experiential (APPE) rotation students, and hopes to expand their program to include residents and/or fellows. This collaboration would be of no cost to the partnering organization and could help to advance Healthcare Informatics initiatives currently underway or in the planning phase.