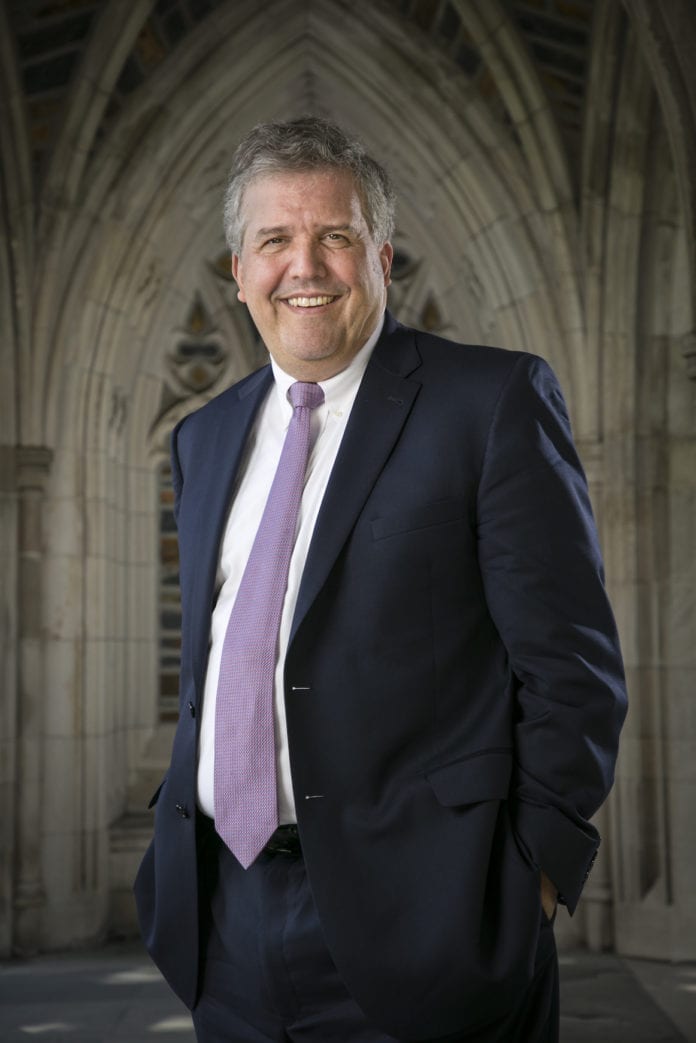 Belmont University's Board of Trustees announced today a unanimous decision to appoint Dr. L. Gregory Jones, dean of Duke Divinity School, as president of Belmont, effective June 1, 2021. Dr. Jones, who will succeed long-time Belmont President Dr. Bob Fisher following his May retirement, brings more than 30 years of higher education experience as a faculty member, administrator, consultant and strategist.
Board of Trustees Chair Marty Dickens said, "Finding a president to follow Bob Fisher is no easy task, but we couldn't be more pleased that Dr. Greg Jones has agreed to serve as the next leader of Belmont University. An exceptional scholar, tremendous communicator and strategic thinker, Dr. Jones will bring great imagination and energy to his role and will cultivate a dynamic, thriving culture that continues to focus on student success. Most importantly, as a devoted Christian and ordained minister, Dr. Jones will ensure Belmont's ecumenical Christian identity endures and is strengthened in the years to come."
Known for his entrepreneurial leadership and fundraising ability, Jones currently serves as dean of Duke Divinity School, a position he held from 1997-2010 and again from 2018 to the present. Between 2010 and 2018, he served in a variety of roles, including vice president and vice provost for global strategy at Duke University and also as provost and executive vice president of Baylor University. In addition, he has served in advisory and strategic roles with several foundations and educational institutions in the United States as well as in Armenia.
In his current tenure as Dean, Jones has strengthened the Divinity School's financial trajectory, diversified the faculty and staff and led a strategic planning process that has garnered great enthusiasm for the school's future, all while setting new records for gifts to the Annual Fund and to the Divinity School overall. In addition, he currently serves as a senior fellow at Leadership Education, which he founded, and senior fellow at the Fuqua-Coach K Center on Leadership and Ethics, both at Duke University. He is passionate about re-shaping cultures within and across organizations and has coined the term "traditioned innovation" to capture how he re-frames complex challenges to seize significant opportunities.
Jones said, "I am honored, humbled and delighted to be invited to serve as President of Belmont University. I have long admired Belmont as a university that brings together the best of Christian faith, an entrepreneurial spirit and a strong focus on forming and educating students through excellent faculty and staff. President Bob Fisher has provided extraordinary leadership over the past two decades, and I look forward to working with the Belmont community to build on all that has been accomplished as we look forward to a bold and exciting future."
Jones was unanimously recommended for the position by the Presidential Succession Committee, which consists of representatives from Belmont's Board of Trustees, faculty, staff and alumni. The Succession Committee was guided in their selection by input from more than 775 campus stakeholders—students, faculty, staff, parents, alumni, Board and community members—who participated in a survey on the qualities and experience most needed by Belmont's next president.
Board of Trustees chair elect Milton Johnson noted, "The Belmont community spoke clearly about the characteristics they believe are needed in the University's next president. They want an energetic, collaborative leader committed to diversity and inclusion, the student experience, Belmont's Christian mission and campus resources and culture. Throughout his career Dr. Jones has demonstrated exceedingly strong capabilities in each area, while also possessing significant experience as a strategic and entrepreneurial thinker who excels at leading large organizations. Moreover, Dr. Jones' passion for 'traditioned innovation' promises a president who will build on the strong community feel at Belmont and boldly take the University to even greater heights."
Belmont President Dr. Bob Fisher added, "I am ecstatic that Dr. Greg Jones will become the next president of Belmont University. Having done this job for a few years, I also know how much it means to have someone beside you every single step of the way that you know loves you and cares for you no matter what. In Greg's case, that's Rev. Susan Jones, and I'm equally thrilled that she is 'all in' for this opportunity. They will be a powerful team for Belmont! Knowing that our Succession Committee was able to recruit such an outstanding leader to be the next president makes me proud to be a part of Belmont University. Former President Herbert Gabhart often said that 'the best is yet to be for Belmont.' I now understand that was much more than an expectation—it is a prayer, and it's now my turn to pray that same prayer as we embrace the leadership of Dr. Jones."
Jones' tenures as dean have been marked by significant growth in Duke Divinity School. More than $102 million was raised under his leadership in The Campaign for Duke (1998-2003), and major new initiatives begun during his tenure include the Center for Reconciliation, the Thriving Rural Communities Program, the Duke Youth Academy for Christian Formation, the Clergy Health Initiative, the Reynolds Program in Church Leadership and numerous international partnerships, especially with the Methodist Church of Southern Africa, the United Methodist Church in Cote d'Ivoire, and the Center for Reconciliation's Great Lakes Initiative which embraces the central-east African region. As Duke's Global Strategist, he led initiatives in China and India as well as helped to engage work in Singapore.
A gifted speaker, Jones is the author or editor of 19 books, including the recently released Navigating the Future: Traditioned Innovation for Wilder Seas (with Andrew P. Hogue) which outlines his perspective on traditioned innovation as "a habit of being and living that cultivates a certain kind of moral imagination shaped by storytelling and expressed in creative, transformational action." Other works include Christian Social Innovation, the co-authored Forgiving as We've Been Forgiven: Community Practices for Making Peace (with Celestin Musekura), the co-authored Resurrecting Excellence (with Kevin R. Armstrong), and the widely acclaimed Embodying Forgiveness. An ordained United Methodist minister, he has published more than 200 articles in a variety of publications.
Dr. Jones received his bachelor's in speech communication and a masters of public administration from the University of Denver, and his masters of divinity and Ph.D. in theology from Duke University. He is also the recipient of honorary doctorates from Lycoming College (Williamsport, PA) and North Carolina Wesleyan. He currently serves on the boards of the John Templeton Foundation, the McDonald Agape Foundation, the Lilly Family School of Philanthropy at Indiana University and the India Collective.
Dr. Jones is married to the Rev. Dr. Susan Pendleton Jones, who has served as a campus minister, a local church pastor and as a senior administrator at Duke Divinity School. Currently, she is working as a consultant to the bishop's office of the United Methodist Church in North Carolina. Greg and Susan are the parents of three children: Nathan, Ben and Sarah, and are grateful for their two daughters-in-law, Amy Little Jones and Allison Jones, their son-in-law Joey Fala and their granddaughters Clara, Audrey and Sophie.