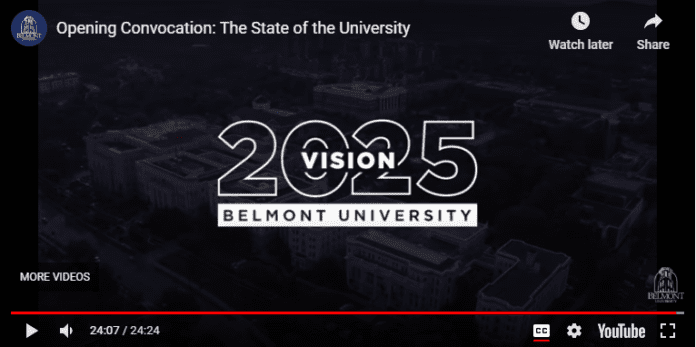 Each academic year at Belmont kicks off with an Opening Convocation address, delivered by President Dr. Bob Fisher. This year, the tradition remained, although the address was hosted virtually the evening of August 19. Dr. Fisher examined the University's progress thus far in its Vision 2020 goals and outlined strategies Belmont will prioritize as it embarks on Vision 2025. The virtual event can still be viewed on Belmont's Opening Convocation website.
Highlights of the address include rising enrollment numbers, up to 8,440 in 2019, and indication that enrollment will continue to increase. Dr. Fisher also said faculty and staff numbers are growing to match the student ratio. Graduation rates have continued to rise, as well.
Dr. Fisher expressed his excitement over recent awards and accolades given to Belmont, with one of the most impressive being 100 percent of nursing students passing the FNP Nursing Certification exam for the 15th straight year. Dr. Fisher also said 88 percent of graduates were accepted into their first choice of graduate schools, and 93 percent of graduates are finding jobs in their chosen field.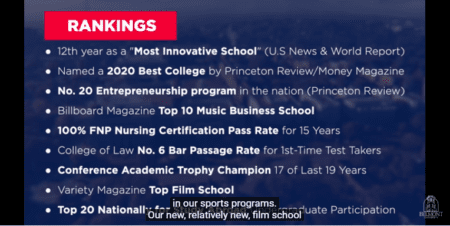 Belmont will host the first class of its Architecture program this fall and welcome new students in the Watkins College of Art. Belmont has also launched new majors in Emerging Media, Business Analytics, Data Science and Hospitality and Tourism Management. He also bragged on Belmont's 3 plus 3 options for Law, Occupational Therapy and Physical therapy which allow freshmen students to earn both an undergraduate and doctoral degree in six years.
Dr. Fisher explained that Belmont has ramped up its Belmont State of Mind Diversity, Equity and Inclusion initiatives.
Viewers learned that Belmont has grown in financial strength both in endowment and assets over the past five years.
Additionally, seven strategies from Belmont's Vision 2025 strategic plan were announced after groups at the University met to develop them this past year. Belmont wants "to be a leader among teaching universities, bringing together the best of liberal arts and professional education in a Christian community of learning and service."
Although life at Belmont may look a little different this fall, Dr. Fisher wrapped up the address by reiterating the importanance of the health and safety of everyone on campus.