A day-long symposium last Friday proved to be an educational and inspirational wrap up session for Belmont's 5th Annual Diversity Week celebration. "Minding the Gap: A Diversity in Entertainment Symposium" featured a variety of guest speakers discussing a wide range of topics related to issues of inclusion in music, entertainment and media.
Symposium organizer Dr. Cheryl Slay Carr, associate dean of the Curb College of Entertainment and Music Business, said, "This was an incredible day of dialogue with industry partners across Nashville. It's the first time the Curb College has hosted this event or anything like it, and addressing such a wide swath of issues with a receptive audience while expanding our connection with the Nashville entertainment community was very gratifying."
"There's a synergy that's created when people are brought together in the same room to discuss something vital," Carr continued. "This is an important take-away for our students, the idea of networking with purpose, to create mutual benefit and enrich our industry. Light bulbs went off for some of us, thinking about the many possibilities ahead! This event was so successful that we look forward to continuing the dialogue. I'm excited, and we are already planning for next year, and for offering Minding the Gap as an annual event."
The public event opened with Assistant Professor of Music Business Dr. Eric Holt moderating a five-member panel analyzing the rise of the urban music scene in Nashville. Several panelists remarked that while the urban music scene in Nashville has grown considerably in recent years, representation among music business leadership has not kept pace. "Unfortunately, record labels and publishers in executive suites do not reflect that growth," said RCA Inspiration Senior Vice President and General Manager Phil Thornton. "I'm talking about a handful of executives in two dozen labels… We need more young, diverse voices in these organizations."
Dreamville Records producer Ron Gilmore, a Nashville native, added that he felt the need to move away from Music City in 2010 so he could explore opportunities in a more diverse musical culture. After finding tremendous success–including as keyboardist in the touring bands for Lauryn Hill and J. Cole as well as producing on several of Cole's multi-platinum albums–Gilmore returned to Nashville with a new goal.
"Nashville overly prepared me. I can read music, I can compose, I'm a really good player. That comes from being around great musicians all the time," Gilmore said, recalling his upbringing in church and the Nashville School of the Arts. "That was normal for me. When I got to New York City, I realized that's not normal everywhere. This city has given me so much so now I want to inject what I've learned here."
Shannon Sanders, program director for 102.1FM The Ville, added that building a stronger community network within Nashville's urban music scene will aid in its continued growth and development. "Compare it to an engine. We see an engine as one thing, but it takes a lot of little parts to make it go… We have to rally behind something. Unity, that's what will move the needle."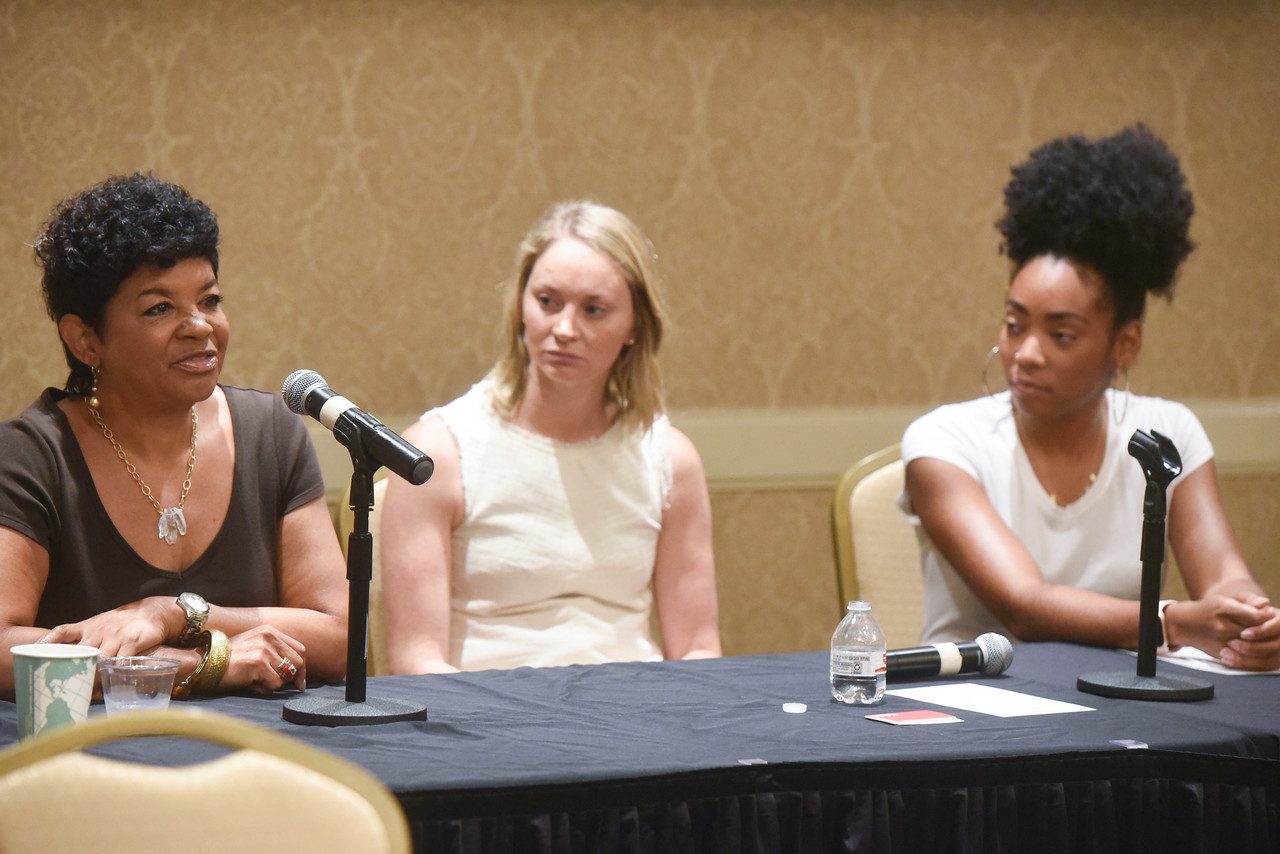 The day's second panel focused on "Who's in the Room Where It Happens? A Look at Women in the Music Industry." Moderated by Carr, who is also conducting grant-supported research on the topic, the panelists represented women at various stages in their careers who touched on inclusion in all its forms.
Coady Rapp, Creative Artists Agency human resources executive, said, "This whole topic can be so messy. There are so many facets of diversity: religion, race, age, culture, socioeconomic. I say assume positive intent. It's not up to others to cater to us, but it's on us to come to an understanding of where others are coming from."
Gospel Music Association President Jackie Patillo agreed, noting, "You have to have mutual respect and a desire for connection."
During the panel Carr reflected on the "Women in Music Row" study she's been conducting, noting it "facilitated a research-based dialogue amongst women within Nashville, so it was phenomenal to include even more women in that discussion today. And there's more research on the horizon. During the Symposium breakfast, we announced a new Curb College Diversity Research grant to support faculty interested in deepening this dialogue. Amy Smith and Jodi Marr are the first faculty to receive the new grant, and they will also be exploring issues related to women in entertainment. We see ourselves [in Curb College] offering our findings in the form of a more cutting-edge and informed curriculum, and hope to serve as a resource to the Nashville and broader entertainment community."
In addition to the new research grant, Carr also revealed a new scholarship has been started to support women in the industry. The Fiona Whelan Prine scholarship has been created within the Curb College to support underrepresented women and to increase the pipeline of such women in the music industry.
The panelists also encouraged mentoring and advocating for others as part of the process to make change happen, a theme that was repeated in an afternoon session on diversity in the media, titled "JetSet and the News—Leveraging Diversity in the Digital Age."
Panelist Jeannette Ceja, a Belmont alumna and travel journalist, said, "At times I didn't see anyone who looked like me doing a travel show. In 2019, that propels me to want to be that example for other little girls and boys."
Other panels during the day-long symposium discussed diversity in operas, museums, nonprofits and the film industry while an afternoon session allowed attendees to sit back and enjoy the sounds from a diverse array of musical artists, including Jason Eskridge, Jamiah, Ysa Fernandez and Alejandro Sierra.
Photos from sessions throughout the day can be viewed in Belmont's online photo gallery.