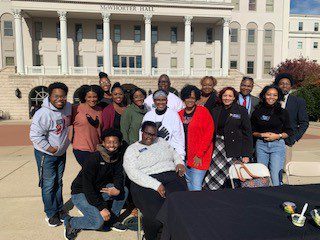 Belmont's Black Student Association, led by President Ashley Sawyers and Vice President Antionedra Maupin, started a new tradition this fall to connect with black faculty and staff on campus over a casual lunch. The first "Lunch on the Lawn" event was held on November 12 at Freedom Plaza where approximately 50 faculty and staff joined the group of students on one of the best fall days of the semester.
The Lunch on the Lawn provides an opportunity for Belmont's black students, faculty and staff to meet and build connections. Each semester the Black Student Association will host the event to create a space for fellowship, food and fun. Sawyers explained the organization created the series to ensure "there is always a space for diversity to be included and welcomed on our beloved campus."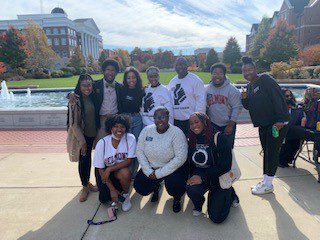 Maupin said the group hopes to build community through the event. "We established this series so students and faculty and staff can get to know one another, for us to commune together and for faculty and staff to get more involved with our organization. With there always being new students and new hires at Belmont, it gives everyone a chance to know some people who look like them on campus," she explained. "This event is a great way to learn about who all is here and who all is here for the students."
BSA's executive board works with Sodexo to curate a menu that includes several meal options ranging from sandwiches to salads. Upon the start of the event, everyone is free to mingle and network.
Sawyers said, "Especially after the pandemic distanced us from one another for so long, I wanted to be able to bring us closer (within safe standards). BSA's goal for the event is to create a comforting space that encourages connection. We want everyone to feel as if they have somewhere and someone to help them thrive during their time at Belmont."