Curb College of Entertainment and Music Business welcomed GRAMMY-nominated singer/songwriter Gavin DeGraw for an intimate conversation and Q&A on April 24 in the Johnson Large Theater, drawing more than 250 students. Moderating the conversation was music business alumna Monica Seetharam ('16), who serves as director of digital marketing for RCA Records in New York.
DeGraw launched his career with his 2003, platinum-certified full-length debut album "Chariot," which featured gold singles "Follow Through," "Chariot," and "I Don't Want to Be"—which was featured as both the opening theme of the CW's "One Tree Hill" and Entertainment Weekly's "The 25 Best TV Theme Songs of the 21st Century."
The singer/songwriter continued releasing hit music including his 2008 self-titled second album "Gavin DeGraw," and 2011 "Sweeter," including the double-platinum single "Not Over You." In 2013, he earned a GRAMMY nomination for his duet with Colbie Caillat in "We Both Know," nominated for Best Song Written for Visual Media for the film "Safe Haven."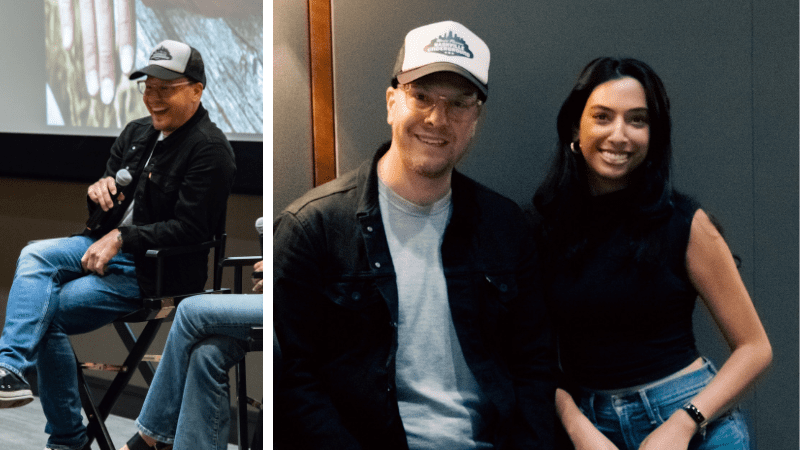 DeGraw went back to his roots, writing alone again for his latest record, "Face the River." The writing process was a form of healing as he grieved the loss of his parents and other family members, wanting to remember their legacy. "I can't make anyone live forever, but I could make my folks' story live forever if I made a piece of music."
While writing the record, the last thing on his mind was marketing. "I was just trying to make art," he said. "The music business is tough because you have to straddle this line of art and commerce. I made art, but you can't forget you're in business too."
Amid the COVID-19 lockdowns, DeGraw took a big swing and asked GRAMMY-award-winning producer Dave Cobb—best known for his work with Chris Stapleton, Brandi Carlile, John Prine, Sturgill Simpson and Jason Isbell—to produce the record.
"If you want something, just ask for it," DeGraw advised. "If I had put it off two months, it would have never happened. To me, that is one of the great life lessons: if it's something you want to get done, speak to it and do it as soon as it comes up."
Seetharam guided the conversation back to arts and commerce, specifically through the lens of designing a tour. DeGraw makes tour decisions based on the market and what's going to sound good in a particular room. Sometimes a drum kit is too much for a tiny space, he said.
"You also have to make certain decisions based on what the money is going to speak to. You make a show that's too expensive, no one is going to be able to afford to see it," he said. "Then you're just outpricing your audience and it becomes insulting."
DeGraw's attention to detail on the fan experience and how they feel at shows sets him apart from many artists.
He reflected on an experience at a Virginia amphitheater where he walked by his merch table before doors opened and noticed t-shirts marked $55. "My blood boiled," he recalled, later learning about the venue's "most favored nation" clause where all tour merchandise is sold at the same price, no matter the artist.
"Sometimes you end up in situations where the money starts to look weird and can really affect how the audience perceives you if you do it the wrong way," said DeGraw. "I would rather not sell t-shirts than someone think I'm trying to milk them that kind of money for a piece of cotton."
Students had the opportunity to ask questions where DeGraw provided sound advice for both breaking into the industry and making a career out of music. "You need direction," he advised. "[When looking for a job], you need to be direct, aggressive and tenacious. It's not about your resume, but about convincing someone of your value and that you can handle it."
The event was co-hosted by the Mike Curb College of Entertainment and Music Business and the Office of Career and Professional Development. View photos from the event.
---
Interested in a career in the entertainment and music business?