The Department of Art held a reception and artist talk this week for the solo exhibition "Dale Addy's The Conceptualizer: A celebration of the artist in all of us." Addy, founder of DNA Creative Marketing, has taught graphic design at Belmont for the past decade and is responsible for several marketing campaigns and branding projects for the University, including the design of The GIG logo.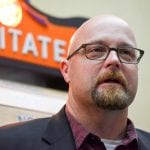 The idea for The Conceptualizer began in Addy's classroom, where design students would often immediately search Google for inspiration about what to draw/design when given a design assignment. "Many of my students completely overlooked their own creativity in determining what should be done," Addy said. "It just seems like technology has lured them–and us–away from our own thinking, our own creativity. Thinking and being inventive is critical in business and design communications today. When young, children usually hold no inhibitions about being creative or drawing. But for some reason, by adulthood, many decide they can't draw, they can't be imaginative. And, even more, people–and some artists–think they can't be creative without some other idea source. And that's just not true. We all are more creative than we'll ever think we are, and this show will prove that."
A native of Orange County, California, Addy began his career in Los Angeles at Altoon + Porter Architects as an environmental designer. He moved to Nashville in 1993 and served as vice president, associate creative director, at Dye, Van Mol & Lawrence. Ten years later he formed DNA Creative Marketing, having since worked on a number of national/international brands. He has a Bachelor of Science in Applied Art and Design from Cal Poly San Luis Obispo and a Master of Fine Arts in Graphic Design from Savannah College of Art and Design.
"The Conceptualizer" exhibit remains on display through Sept. 15 in the lobby of Belmont's Leu Center for Visual Arts. Hours are Monday-Saturday 9 a.m.-6 p.m. and Sunday 1-6 p.m.