Alumna Jessi Baumgartner, a design communications graduate of 2018 and Leu Scholarship recipient, recently received full funding for a residency program with Main Street Arts in Clifton Springs, New York, beginning in June. Main Street Arts is a nonprofit arts organization and art gallery specializing in showcasing contemporary art and fine craft from emerging and established Upstate New York artists.
Baumgartner said she is captivated by the contrast between modern urban chaos and small-town kitsch. "Imagine a rural one-road town: decrepit gas stations hugged by sprawling cracked sidewalks, isolated figures drudging around convenience stores," she proposed. "Such lonesome scenes have been my painting subject since 2017."
Baumgartner observed that Nashville, in the height of its adolescence, has been a prime location to study this. "That being said, its idiosyncrasies are unique to its region. In the past I have only explored the small town/large town disparity as it manifests in the South; while in Clifton Springs, itself a small town, I will examine this same relationship but with northern U.S. nuance," she said.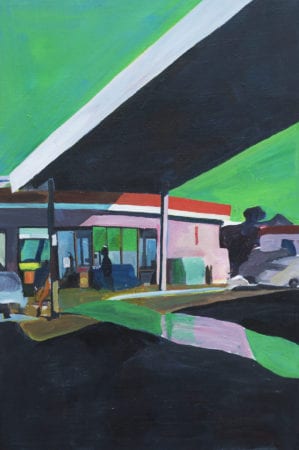 "With upstate New York as my muse, I intend to create ten new paintings continuing my thesis."