Sophomore social work major Ali Wine is using some of her new free time at home to channel her artistic energy for a good cause. In light of the global COVID-19 pandemic and the new transition to online classes, Wine felt she had the perfect opportunity to learn new art skills and create beautiful pieces of art. All of the money she makes from these efforts will be donated to help those experiencing unemployment and financial hardship during this crisis.
Wine uses acrylic paint, thinning it out and pouring it over canvasses to create unique abstract art pieces. "I'd been wanting to learn this mode of abstract art called acrylic pouring," she said. "I've always loved getting creative, especially with art and music. Specifically, I really enjoy abstract art."
Feeling helpless in the pandemic, Wine said she spent a week or two doing nothing but acrylic pouring and sharing her art on social media. "People started asking me to create art for them to purchase. I felt thankful for the opportunity to create art pieces for friends and family during this difficult time and decided to use it to help people," she explained.
After announcing that she would be selling the acrylic poured canvasses she made, request began to pour in. "I said I'd take requests for certain colors and also offered to surprise people with colors that remind me of them with a note attached explaining why I selected those colors," Wine explained.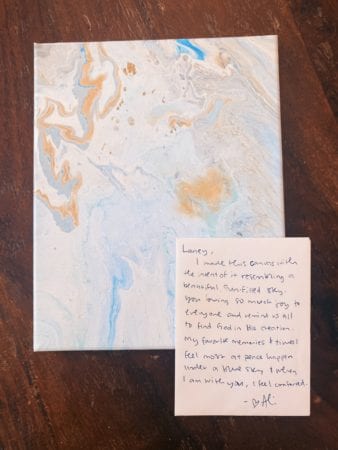 "I expected only a handful of people to respond but am overwhelmed by the funds we've raised for this cause," shared Wine. "Over $1,000 has been raised thus far, and I've had to cap the orders for the time being. Now, there is a waiting list. I'm so grateful for the support I've gotten and for this creative outlet I love so much."