Grant Gill Furniture was born from a passion uncovered and developed during Gill's education journey. During his time at Belmont, Gill studied design communications and studio art with a sculpture emphasis. It was in these studies where he began learning the basics of the tools and techniques he uses now.
Following his 2016 graduation from Belmont with honors, he spent over a year abroad on a Fulbright teaching grant where he was able to live and study right outside of Vienna, considered to be one of the furniture capitals of the world. He spent time exploring the culture and visiting museums where he became fascinated with their traditional production of furniture. After his interest was piqued in furniture making, he went on to complete an MFA program at Florida State University studying sculptures again, but found himself making more furniture than intended sculptures. Shortly thereafter, he took an opportunity for an apprenticeship in furniture, solidifying his goal to pursue this passion.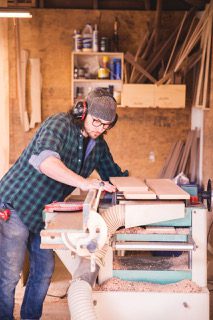 "Sustainability. Function. Beauty," said Gill. These are the three pillars Gill describes in his mission in making furniture. His goal is to make high-quality furniture, the kind that can be handed down through generations as an heirloom. This leads to inherent sustainability, providing furniture that will last for years to come rather than mass-produced pieces often of lower quality that don't last. Gill is also obsessed with the details, understanding how the smallest change can greatly affect the function and usability of a piece. The beauty and uniqueness of his furniture is translated through the combination of traditional techniques of heirloom creation with modern, contemporary designs.
"I'm always looking back at traditional things, seeing how they did things, and trying to figure out how I can modernize the techniques that they were using," Gill said. His extensive travel abroad and experience in multiple facets of art have highly influenced his style. Influences of American and Japanese woodworking are evident in his heirloom-quality designs.
Offering advice to Belmont students currently pursuing their passions in art Gill said, "Keep after it. Keep making things." He explained how he kept creating, kept making different things, until eventually he made a piece of furniture. That first creation ignited his passion to follow this career path that has led him to enjoy a beautiful combination of making art that also has a place in the market for people to use and cherish.
While Gill has recently been pursuing his career in Birmingham, Alabama, he is planning to make the move back to Nashville and rejoin the growing city of art to be a part of the evolving creative opportunities. As his business continues to expand, Gill is looking forward to creating his own furniture line with customizable aspects for customers to make a part of their homes. View his designs at grantgillfurniture.com