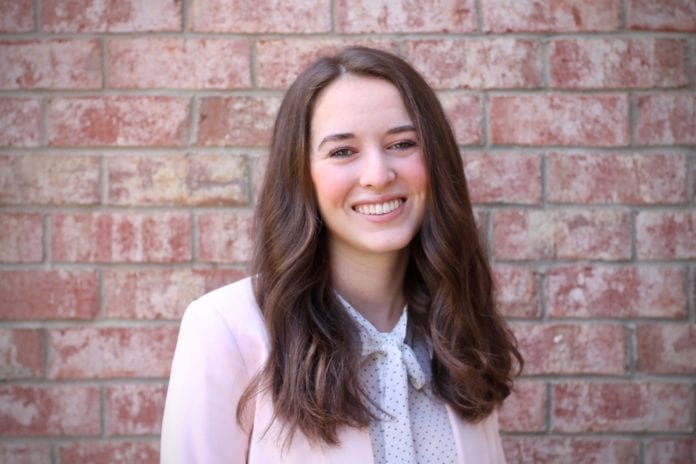 Rising junior Ansley Deaton, Belmont fashion merchandising and marketing double major, has been recognized as a semi-finalist for the Next Generation Scholarship with the National Retail Federation and will move on to the next phase of the competition. The Nolensville native is also the student ambassador and president of the new NRF student chapter that will launch at Belmont in August.
Deaton said to be selected as a semifinalist is like the light at the end of a long tunnel. "Adapting to returning home from campus early and having online classes was very difficult for us all, but I am glad that my hard work paid off and that I was lucky enough to have supportive professors throughout the process," she said.
Sponsored by SAS, this scholarship develops students' skills in retailing, business and critical thinking, preparing and encouraging them to not only launch their career in retail, but be recognized among the next generation of leaders in the industry. Since its launch, more than $800,000 in funds have been awarded through the Next Generation Scholarship.
Ambitious students from 44 NRF University member schools competed to represent the next generation of retail leaders. Retail executives selected 25 semifinalists from 97 original applicants who rose to the top after submitting an essay, a personal brand video and two letters of recommendation from their employers and educators. Deaton will now join the other semifinalists to complete an exclusive case study created in collaboration with PetSmart and two phone interviews with retail partners for the chance to advance to the final round of competition. The 25 semifinalists will also receive a $1,000 tuition award for their achievements in January.
After the upcoming round, 10 students will advance to quick-fire video interviews which will narrow down the applicants to five finalists, who will have final round interviews with members of the NRF Foundation Board of Directors. Of the finalists, four will each receive a $10,000 scholarship and one will receive a $25,000 scholarship.
"As our most prestigious award, the NRF Foundation Next Generation Scholarship honors undergraduate students who have the drive, passion and desire to make a positive impact on the retail industry," NRF Foundation Executive Director Bill Thorne said. "We are impressed by what our semifinalists have accomplished so far, and we are looking forward to supporting their professional growth throughout this competition."
The NRF Foundation Next Generation Scholarship is the pinnacle achievement for students interested in pursuing careers in retail. This opportunity was created for students of various academic backgrounds who have demonstrated leadership skills, previous retail experience and a passion for making an impact.
In Deaton's application materials, she discussed her extracurricular passions, her experience at Belmont, and what she has learned throughout her time working in the retail industry. "For the essay, we were told to describe how a retailer of our choice could innovate their physical retail stores in a digital world. I wrote my essay about Macy's since they are an iconic American brand, but they still have room to expand their target market to a younger audience," Deaton explained. "I had a lot of fun writing my essay, and I was able to use what I learned from listening to Macy's CEO speak at the NRF Student Program in New York earlier this year."
Since Deaton is majoring in both fashion and business, she said Belmont has given her a diverse view of how different industries are predicted to change in the coming years, and which companies are at the forefront of this change. "Being a Belmont student has prepared me for this experience in so many ways, and I could not be more thankful for the wonderful professors who have helped me along the way," she said. "My faculty are so kind and truly have a passion for helping their students, leading me to form lasting relationships that have been incredibly meaningful throughout my education at Belmont. I know that after I graduate, I will be well-rounded enough to tackle any career I choose."
Deaton hopes to work in marketing or merchandising for a global fashion brand, eventually in a management position where she can work with a diverse team of creative, innovative leaders in the industry. She said, "One of my biggest passions is sustainability, and I hope that I can make a positive change in retail in the future through supporting our environment. I believe that huge changes to retail are on the horizon, and I would love to be a part of that!"
In the fall, the NRF Student Association will be up and running at Belmont, and Deaton says she would love to have as many students as possible join. "It is completely free and open to all majors, and there are numerous benefits to joining. Being a part of the NRFSA offers many opportunities for scholarships, professional development and resume builders that will be beneficial throughout college and after graduation," she said. "In the fall we plan to host guest speakers, participate in community service, and we will hopefully have the option to go to New York in January for the NRF Student Program! I am thrilled for the NRFSA to start meeting weekly, and I am so looking forward to creating a fun, creative, professional organization on campus."