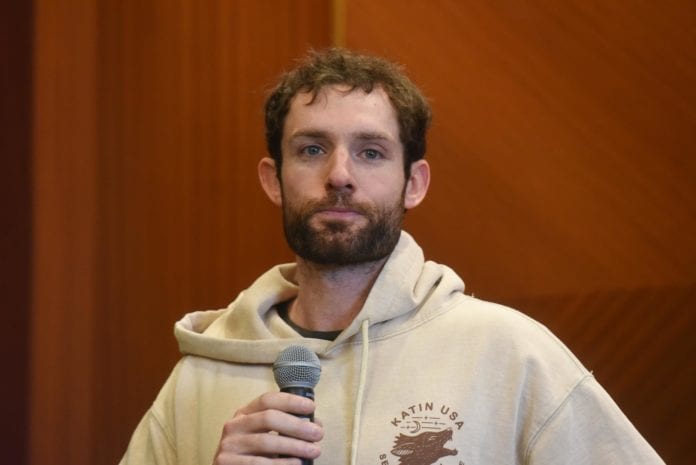 Real Leaders recently published a list of the "Top 50 Keynote Speakers in the World," "who have stayed relentless in their commitment to making a difference (digitally and virtually for now)." Among them is Belmont alumnus and former basketball player Drew Hanlen, ranked no. 38.
Real Leaders writes, "Drew Hanlen is the world's top NBA skills trainer. What many people don't know is that he's been working behind the scenes, influencing business owners and doing inspirational talks for many years."
Hanlen is an NBA Skills coach and consultant, executive coach and CEO of Pure Sweat Basketball, a training firm with a growing list of NBA players such as Bradley Beal (Washington Wizards), Joel Embiid (Philadelphia 76ers), Jayson Tatum (Boston Celtics), Zach LaVine (Chicago Bulls) and Kelly Oubre Jr (Phoenix Suns).
"His basketball hero, growing up, was Michael Jordan. He would record Bulls games, study every move Jordan made, and then hit the court and practice the same moves, which helped Hanlen develop his basketball IQ. Although his dream was to play in the NBA, he still has an impact on the league. Today, he carries the same tenacity and work ethic as a much-in-demand keynote speaker."
Hanlen knows basketball. As a senior point guard for Belmont in 2011-12, he averaged 10.8 points and 3.9 assists a game. His business was built entirely on word of mouth, but on a solid foundation. On his website, Hanlen writes, "My business is based on three core elements of player development, personal development and professional development. My ultimate goal is to help as many players as possible reach the level of success that they dream of and take them beyond what they even think is capable. That's my mission statement and my personal belief."
His job as an NBA Skills Coach is to analyze film and analytics to provide strategic step-by-step action plans to help players improve their games. His unique approach is a crowd favorite as he relates his personal experiences in sports to the needs of his audience.  Below are some of his available speaking topics:
Mastering the Unseen Hours
Setting Your Personal GPS/Reverse Engineering Your Dream Life
Remove the Floaties
Peaking Beyond the Plateau
Success Separators
Become a Star by Impacting Team Success
Auditing Actions and Installing Purposeful Processes
Hanlen joins the ranks with world renown speakers like Malcolm Gladwell, Oprah Winfrey and Brene Brown, who also made the list.